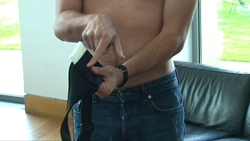 Dr. Allen's therapeutic device reverses BPH in safe, helping to maintain normal life and, moreover, avoid unnecessary surgical costs.
London, UK (PRWEB) March 02, 2013
Fine Treatment receives thankful letters almost each day and some of them confirm the outstanding results of the Thermobalancing therapy, like the following from Saudi Arabia, "Dear doctor Allen, before wearing the device the prostate measure 75 gm, and the symptoms were: difficulty starting to urinate, weak stream, dribbling at the end of urination. After wearing the device for 6 months the prostate measure is 40 gm only, and the previous symptoms has subsided. Now I am very good, Ahmed."
With age, the prostate gland tends to increase in size sometime reaching unbelievable size. For instance, the article in the News Medical from India, dated February 18, 2013 states, "The 72-year-old man Sanaj from Calicut was in immense pain due to enlarged prostate for over a decade. He was going through severe difficulties including pain while urinating, difficulty in walking and imbalance. While the normal size of the prostate gland is 20 gms, Nambiar was detected with 350 gm, which is unheard of in medical history."
Prior to Thermobalancing therapy nothing could stop the process of prostate enlargement, so different surgical procedures were widely used and even when prostate were enlarged slightly. However, any surgery, including minimal invasive, can have serious side effects. According to the article supported by National Institutes of Health (NIH) 'Recent advances in the surgical treatment of benign prostatic hyperplasia' multiple complications can be observed after TURP: perioperative bleeding, blood transfusions, transurethral resection (TUR) syndrome, prolonged catheterization, long hospital stay, urinary incontinence, and retrograde ejaculation are the most important.'
Many men have started sharing their experiences on Men's-Health Forum on Retrograde Ejaculation after Prostate Surgery. For instance, a message posted on 29 December 2011 reveals, "I was misled by my doctor in 2009. Expected one thing and was incontinent 2 years after TURP. No warning from the doctor." Another one posted on 4 January 2012 says, "After my TURP (2009) I experienced problems about which were not told by the doctors, 2 years at least incontinence. No orgasms."
Contrary to surgeries, Dr. Allen's therapeutic device for the first time in the world helps to reduce the size of the prostate naturally. Worn as a comfortable belt, Dr. Allen's device works 24 hours a day creating an ideal environment for blood to cleanse the prostate gland over time. You can watch a short informative video here: http://www.youtube.com/watch?v=V5xidswhxJM.
"A mere placebo effect cannot achieve prostate shrinkage, thus Thermobalancing therapy provides an essential prostate treatment revering prostate enlargement naturally," says Dr. Simon Allen. "Dr. Allen's therapeutic device reverses BPH in safe, helping to maintain normal life and, moreover, avoid unnecessary surgical costs."
For details, visit Fine Treatment at http://finetreatment.com/bph-treatment-prostate-enlargement.
About Dr. Simon Allen and Fine Treatment:
Dr. Simon Allen is a highly experienced medical professional. His specialty is in the internal medicine and cardio-vascular field. He has treated a wide range of chronic diseases, including patients after a heart attack, with kidneys problems, including kidney stones disease, prostate and spine conditions, as well as metabolic disorders. Fine Treatment exclusively offers Dr Allen's devices for chronic prostatitis and BPH treatment, coronary heart disease, dissolving kidney stones, as well as back pain and sciatica relief.