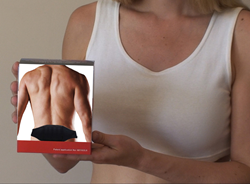 Dr. Allen's therapeutic device reduces BPH symptoms gradually, helping men to feel better without resorting to medication and surgical intervention.
London, UK (PRWEB) March 30, 2013
Fine Treatment recommends Dr. Allen's device to ease any discomfort by reversing prostate enlargement that improves LUTS and general well-being. According to the recent articles in Renal and Urology News, there are different risks of the BPH symptoms progression, however, the most common cause is the continuing increase of the prostate size, therefore more than half of men in their 60s and most men in their 70s and 80s will have signs of BPH.
According to the National Kidney and Urological Disease Information Clearinghouse, the most common prostate problem for men over 50 is prostate enlargement. By age 60, over one-half of men have BPH; by age 85, the number climbs to 90%, according to the American Urological Association (AUA).
According to Raymond Rosen, MD, professor of psychiatry and medicine at UMDNJ-Robert Wood Johnson Medical School (RWJMS), and principal investigator of the study conducted on some 14,000 men, ages 50 to 80, in the U.S. and six European countries, there is a strong correlation between urinary problems and erectile disorders associated with benign prostatic hyperplasia (BPH), or enlarged prostate.
"The results of this survey shed new light on the link between enlarged prostates and sexual dysfunction in older men," says Rosen. He explains that the prostate is the only organ that continues to grow with age. As it enlarges, it impinges upon nerves and blood vessels surrounding the prostate. Consequently, many men have lower urinary tract symptoms (LUTS), or difficulty urinating. BPH and LUTS often adversely affect men's sexual performance.
The unique prostate treatment with Dr. Allen's device improves the blood circulation in the affected prostate gland that reduces the prostate size relieving symptoms and discomfort. Contrary to other therapies, the device helps without complications. Please watch the following video http://www.youtube.com/watch?v=V5xidswhxJM on how a man with a hugely enlarged prostate has shrunk it by wearing Dr Allen's device.
"A protection of men's well-being at any age from common enlarged prostate symptoms, such as lower urinary tract and erectile dysfunction, is an important matter," says Dr. Simon Allen. "Dr. Allen's therapeutic device reduces BPH symptoms gradually, helping men to feel better without resorting to medication and surgical intervention."
For details, visit Fine Treatment at http://finetreatment.com/bph-treatment-prostate-enlargement.
About Dr. Simon Allen and Fine Treatment:
Dr. Simon Allen is a highly experienced medical professional. His specialty is in the internal medicine. He has treated a wide range of chronic diseases, including patients after a heart attack, with kidneys problems, including kidney stones disease, prostate and spine conditions, as well as metabolic disorders. Fine Treatment exclusively offers Dr. Allen's devices for chronic prostatitis and BPH treatment, coronary heart disease, dissolving kidney stones, as well as back pain and sciatica relief.