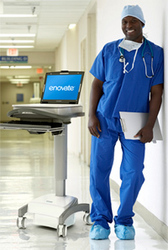 and a wheel base of 17
Detroit, MI (PRWEB) June 15, 2009
EnovateIT, a national provider of mobile and wall-mounted workstations is proud to announce their first internally designed, developed, and assembled Medical Computing Cart. Mobile carts are widely used throughout hospitals - from admissions and operating rooms to patient rooms - improving patient safety by bringing technology to the point of care. Medical Computing Carts are an invaluable tool in a hospital's most critical care environment such as the OR, ICU, or ER and Enovate's newest series raises the bar in patient safety.
Founded in 2003, Enovate's business model has grown from being a successful Healthcare IT Value-Added Reseller (VAR) to a self-sufficient in-house studio and manufacturing division with a large direct sales force. "Our business model is evolving and manufacturing is just one of our new capabilities. Our medical cart series will be manufactured and assembled in the USA and we will strive to keep any outsourcing local, in order to help sustain the tradition of quality Michigan manufacturing," said Fred Calero, Enovate's Vice President and Co-Founder.
Dissatisfied with existing Healthcare IT solutions on the market, Enovate decided to begin creating their own products. Finding their wall station systems to be well-received, they turned to mobile computing. "The decision was inevitable," said President and Co-Founder Ron Sgro. "As a VAR we've sold almost every leading cart in the healthcare market. We felt if we could take the best features from our favorites and add what we think is important; we could create something truly unique and better quality than anything that currently is available. We consult with our customers to develop long term relationships and truly commit to deliver on their requests. We have listened and I am extremely excited about the product that Enovate is delivering."
Enovate focused on four key areas for its new cart series: ergonomics, infection control, weight and power. Cart handles are designed to be comfortable, soft to the touch and ergonomically correct--whether you are pushing, pulling, sitting, or standing. All contact surfaces, including handles, are finished or made with antimicrobial materials that deliver smooth and comfortable surfaces while complying with infection control polices. Standard powered carts on the market are large and bulky, with a starting weight around 120 lbs. and more. Enovate's powered carts have a smaller base with a contour of 12" and a wheel base of 17" x 16.5" which enables it to maneuver within tight areas easily. The starting weight of the standard powered Enovate Medical cart is at 110 lbs. Contrary to standard carts on the market which typically deliver one type of power option, Enovate's Medical Carts offer multiple power options such as hot-swappable Lithium-Ion, Nickel Metal Hydride (NiMH), or the standard Seal Lead Acid (SLA).
For more information on the new Enovate Medical Carts you can visit new micro-site created by Enovate at http://www.enovateusa.com.
About EnovateIT, LLC
Headquartered in Ferndale, Michigan, EnovateIT is a national provider of mobile and wall mounted clinical workstation solutions for the healthcare environment. EnovateIT provides multiple solutions for medication delivery, computerized physician order entry, clinical documentation, electronic medical records, and language translation products and services.
For more information, please contact EnovateIT at (877)258-8030 or visit http://www.enovateusa.com or http://www.enovateit.com.
###