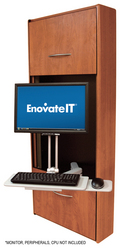 EnovateIT delivered a simple and very effective solution that fits Crittenton Hospital Medical Center's needs perfectly
Ferndale, MI (PRWEB) January 14, 2009
CareTech Solutions, an information technology (IT) services provider for hospitals and healthcare systems, partnered with EnovateIT, a national healthcare technology provider, to create a custom solution for Crittenton Hospital Medical Center's (CHMC) custom point-of-care needs.
CHMC and CareTech Solutions approached EnovateIT to create a custom solution that provides in-room electronic documentation rather than having to move carts from floor to floor. EnovateIT worked with CareTech Solutions alongside CHMC's caregivers to develop a wall mounted device that encompasses specific EMR needs while creating a more hotel type atmosphere. With a greater range of functionality and articulation, EnovateIT created the e645 Computing Wall Stations with a simple counterbalanced door system for easy patient confidentiality and limited wall space.
The e645 offers:

Space saving and information security through counter balanced doors for limited wall space and patient confidentiality.
Cable management: monitor, keyboard, & mouse cables secured underneath articulating arms and inside the cabinet.
Adjustable monitor height: monitor rail provides 9 1/2" of height adjustment, to reach optimal and ergonomic viewing positions
Adjustable viewing display and keyboard rotate independently for shared viewing allowing the clinician to face and share information with the patient.
Infection control: keyboard tray is powder coat anti-microbial paint, non-porous smooth and cleanable surfaces
Maximized CPU cooling configured to accommodate Crittenton's current hardware and future upgrades.
"EnovateIT delivered a simple and very effective solution that fits Crittenton Hospital Medical Center's needs perfectly," said Tom Ventimeglia, CareTech Solutions - Client Executive for CHMC, "We have worked with EnovateIT for a few years now and are consistently impressed with their services and products."
The CHMC, featured as one of the nation's 100 Most Wired Hospitals in 2008, utilizes advanced technological solutions such as document imaging and management, online charting and order management processes, a high-bandwidth local area network (LAN), and an IT-based disaster recovery plan. Custom technological solutions, such as EnovateIT's in-room electronic documentation has helped hospitals like CHMC improve patient safety and care.
About Crittenton Hospital Medical Center
Serving Oakland County since 1967, Crittenton Hospital Medical Center (Crittenton) is a 290-bed facility located in Rochester/Rochester Hills, Michigan. A not-for-profit community hospital, Crittenton is one of Rochester Hills largest employers, with a staff of more than 1,600 and more than 500 physicians. Crittenton Hospital Medical Center is dedicated to enhancing the health status of the individuals that it serves. This mission is accomplished through the provision of a full range of medical technologies and quality services in steadfast partnership with our physicians, staff and community members.
About CareTech Solutions, Inc.
CareTech Solutions, Inc., an information technology service provider for hospitals and health systems, is committed to creating value for clients through customized, flexible solutions that contribute to improving patient care while lowering healthcare costs. From implementing emerging technologies to supporting day-to-day operations, CareTech offers clients expert services across the entire patient data lifecycle.
For more information, please visit http://www.caretechsolutions.com.
About EnovateIT, LLC
Headquartered in Ferndale, Michigan, EnovateIT is a national provider of mobile and wall mounted clinical workstation solutions for the healthcare environment. EnovateIT provides multiple solutions for medication delivery, computerized physician order entry, clinical documentation, electronic medical records, and language translation products and services.
EnovateIT - providing clinicians with the right technology to deliver the best care.
For more information, please contact EnovateIT at (877)258-8030 or visit http://www.enovateit.com.
###