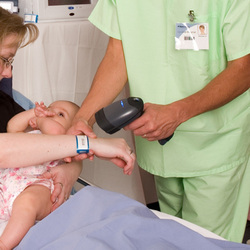 We piloted the solution with the nursing staff at each facility, and were there to support the customer twenty four hours a day, seven days a week,
Ferndale, MI (PRWEB) December 21, 2008
EnovateIT, a national provider of medical technologies for the healthcare environment teamed with Metrologic, now a Honeywell company, to provide over 800 bar-coding medication verification scanners to Novant Health.
Novant Health, began replacing the existing scanners with Metrologic 2D image scanners at the request of their nursing staff, who was frustrated with the integrity of the older technology. The new Metrologic MS1633 FocusBT Scanners were integrated to assist healthcare professionals with bedside medication verification (BMV) by scanning the 1D and 2D bar codes found on medications and patient wristbands. The resulting partnership has led to marked improvements in the execution of the five rights of the patient safety initiative, and has significantly increased the productivity of the pharmacy at Novant
As chief innovators in the field of healthcare safety, EnovateIT and Metrologic's strategic partnership ensured that their client not only had access to around-the-clock customer service, but also educated the nursing staff on all aspects of the MS1633 FocusBT Scanners, including bar code scanning, bedside and pharmacy workflow, pharmaceutical parsing requirements, communication protocols and recommendations for pre-implementation and ongoing training. "We piloted the solution with the nursing staff at each facility, and were there to support the customer twenty four hours a day, seven days a week, " remarked Kerstin Haase, Regional Sales Manager for EnovateIT. "We also assisted in the development of nursing education documents and provided in-service BMV education about the differences in technology between the new scanner and the old."
Novant Health is ranked fourth among the Top 100 integrated healthcare networks in the United States, according to Verispan, a research firm that evaluates healthcare systems. Novant ranked seventh last year and is the highest ranked health system in North Carolina.
About Novant Health
Novant Health consists of a 1,020 physician medical group and nine hospitals in North Carolina's Charlotte, Triad and southeastern regions: Presbyterian Hospital, Presbyterian Orthopaedic Hospital, Presbyterian Hospital Huntersville and Presbyterian Hospital Matthews of the Charlotte area; Rowan Regional Medical Center in Salisbury; Forsyth Medical Center, Medical Park Hospital and Thomasville Medical Cetner in the Triad region; and Brunswick Community Hospital along the coast. Other facilities and programs of Novant Health include the following: MedQuest imaging centers with 92 locations in 13 states; two nursing homes; outpatient surgery and diagnostic centers; rehabilitation programs; and community health outreach services. For additional information, please visit http://www.novanthealth.org.
About Metrologic (now a Honeywell Company)
Honeywell International is a $38 billion diversified technology and manufacturing leader, serving customers worldwide with aerospace products and services; control technologies for buildings, homes and industry; automotive products; turbochargers; and specialty materials. Based in Morris Township, N.J., Honeywell's shares are traded on the New York, London and Chicago Stock Exchanges. For additional information, please visit http://www.honeywell.com.
About EnovateIT, LLC
Headquartered in Ferndale, Michigan, EnovateIT is a national provider of mobile and wall-mounted workstation solutions for the healthcare environment. EnovateIT provides comprehensive solutions for medication delivery, computerized physician order entry, clinical documentation, electronic medical records, and language translation products and services. For more information, please contact EnovateIT at (877)258-8030 or visit http://www.enovateit.com.
###