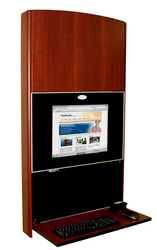 EnovateIT's workstations now play a major role in Wake Forest's overall IT project
Troy, MI (PRWEB) August 27, 2007
Rated one of Americas's "Most Wired Hospitals," Wake Forest University Baptist Medical Center in Winston-Salem NC announces a massive deployment of custom solutions from EnovateIT.
EnovateIT. and a team of nurses, doctors and IT personnel, worked closely together to address specific security, ergonomic, infection control, and workflow issues. In turn medical & surgical units throughout the hospital integrated 800 of each of the following solutions: infection control keyboards & mice, barcode scanners, wall mounted articulating arms, and custom CPU holders. After evaluating the various hardware solutions EnovateIT provided, Wake Forest decided to purchase an additional 50 medication carts for the adult Intensive Care Units (ICU).
As a necessity, EnovateIT's hardware solutions were all customized for the barcode medication administration within the hospitals Electronic Medical Record (EMR). "EnovateIT's workstations now play a major role in Wake Forest's overall IT project," said Robin Hack, Wake Forest's Interim Director/Manager of Nursing Clinical Systems (NCS), "our care givers desired a workflow solution to help them achieve greater efficiency in their medication administration activities."
Kim Benson, NCS Specialist reported that, "during the trial period the nurses overwhelmingly preferred the in-room solution." The articulating arms attached to the wall mounted workstations allow the staff to use the EMR at the patient's bedside. This gives the caregiver the ability to obtain positive patient identification in one simple action.
After a successful testing period, Wake Forest went live with an assortment of EnovateIT solutions. Within patient rooms on the med-surge floors workstations were highly regarded by the clinicians. However in the ICU, the medical staff agreed that the medication carts were a more effective solution. According to Robin Hack, "the medication cart solution for the ICU is a great fit for the workflow and space constraints in that practice setting. EnovateIT was very astute, attentive, and able to handle all our hardware needs within the different departments." Kevin Patrum, EnovateIT Regional Sales Manager states, "Ultimately we want to provide better patient care, no matter where the required need is within the hospital."
About Wake Forest
Wake Forest University Baptist Medical Center is an 872 bed academic health system comprised of North Carolina Baptist Hospital and Wake Forest University Health Sciences, which operates the university's School of Medicine. The system comprises 1,154 acute care, psychiatric, rehabilitation and long-term care beds and is consistently ranked by *U.S.News & World Report Health "America's Best Hospitals." **U.S.News & World Report Health "Most Wired Hospitals"
About EnovateIT, LLC
Headquartered in Troy, Michigan, EnovateIT is a leading provider of mobile wireless solutions for healthcare. With more than 40,000 device installations in over 1,100 healthcare facilities, EnovateIT provides cost effective solutions for medication delivery systems, computerized physician order entry, clinical documentation, and electronic medical records systems. EnovateIT not only offers the products to facilitate wireless point-of-care information solutions, but also the services and support to make it a reality. Visit EnovateIT at http://www.enovateit.com or call 248-655-0548.
# # #