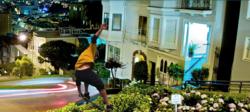 CUPERTINO, Calif. (PRWEB) November 28, 2012
Ensighten, innovator of Real-Time™ Tag Management Systems and visitor privacy solutions that optimize web analytics and digital marketing performance, has added digital marketing thought leaders from Forrester Research, Las Vegas Sands, Microsoft, Seagate, Semphonic, Sony Electronics, Stratigent, TRUSTe, United Airlines, WebTrends, Web Analytics Demystified to the speaker line-up at its second annual customer and partner conference, Ensighten Agility2013.
When: January 30 – February 1, 2013
Where: JW Marriott, Union Square, San Francisco
Be there: registration is now open.
After last year's highly successful conference, attended by some of the world's top brands and leading digital marketing agencies, this year's event has expanded to a three-day format. Agility2013 showcases the latest in cool and incredibly agile digital marketing maneuvers made possible by Ensighten's tag management technology.
Confirmed speakers as of November 28, 2012
■ Joe Stanhope, principal analyst, Forrester Research: "Tag management state of the union"
■ Autumn Arbury, group manager, digital analysis services, Microsoft: "Managing enterprise complexity: digital analytics at Microsoft"
■ Brandon Bunker, senior manager of analytics, Sony Electronics: "Innovating with tag management"
■ Abhijit Patil, senior manager, business intelligence, United Airlines: "Inside United's vision for achieving a 360° view of customers"
■ Just added: panels to discuss critical marketing issues—mobile (with Webtrends) and privacy & compliance (with TRUSTe).
Limited Early Bird Special — Register Today
The Ensighten Agility2013 website is live and open for registration. A special early-bird rate of $495 expires November 30, 2012.
Registration includes outstanding professional development and networking opportunities
■ Learn: interactive workshops cover the next release of Ensighten Manage, data optimization, multichannel analytics, site performance optimization, deploying Omniture, GA Premium and Floodlight.
■ Network: meet industry leaders and fellow developers in during three days of keynotes, presentations, and social events.
■ Refine: get the latest tips on deploying website analytics and optimizing site performance.
■ Connect: visit the Partner Gallery, a showcase of interactive products and solutions.
■ Ask the experts: meet the Ensighten development team to resolve technical challenges.
■ Have fun: we've planned a fabulous evening soirée at the new Walt Disney Family Museum, located in the historic Presidio in Golden Gate Park. Join us as we stroll through galleries of Disney classics while enjoying cocktails, delicious bites, and great conversation.
ABOUT ENSIGHTEN
Ensighten's enterprise tag management and privacy solutions enable the world's largest enterprises to manage their websites more effectively. Ensighten's industry-leading tag management platform replaces hundreds of lines of code per Web page with a single line of code, and empowers marketers with an easy-to-use Web interface that lets them quickly add, remove or manage any third-party service such as Web analytics tags or advertising pixels. Ensighten's global Tag Delivery Network serves over 750 billion tags annually, representing over 1500 different digital marketing services, to more than 25,000 Web domains across 150 countries, accelerating page-load times and handling more than $25 billion in ecommerce for top brands that include A&E Networks, LendingTree, Lenovo, Microsoft Stores, Monster, Sony, and Subaru. Visit us on the Web at http://www.ensighten.com, and follow Ensighten on facebook.com/ensighten and Twitter @ensighten.