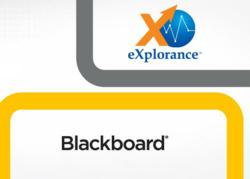 Through our partnership with eXplorance, we are able to offer a wide range of optimized course evaluation and survey tools, which is critically important to our clients
Montreal, Qc (PRWEB) March 27, 2013
eXplorance Inc., a leading enterprise-feedback management provider, announced that it is now a Blackboard Premier PartnerTM for its integration with Blackboard Learn™, Blackboard Inc.'s flagship learning management system (LMS). The upgrade from Signature Partner™ to Premier Partner will allow for greater collaboration between the two companies through increased technical, marketing and sales support.
The enhanced partnership illustrates eXplorance's strong commitment to maintaining high client satisfaction rates and its clear focus on the higher education market by continuing to offer deep course evaluation and survey solutions directly into the leading LMS.
"Feedback management plays an increasingly important role as institutions place more emphasis on data-driven decision making," said Ted Hopper, Blackboard Vice President of Business Development. "Through our partnership with eXplorance, we are able to offer a wide range of optimized course evaluation and survey tools, which is critically important to our clients."
As a Premier Partner, eXplorance will be able to provide Blackboard Learn users with more marketing and sales information about Blue solutions for course/instructor evaluation, psychometric/knowledge tests development, 360 reviews, performance appraisals and organization-wide surveys, all of which is fully integrated with the Blackboard Learn platform.
"We are looking forward to collaborating together so that our mutual clients benefit from our closer relationship," said Samer Saab, eXplorance's CEO and Founder. "With Blackboard being the world leader in higher education technology, this partnership also allows us to enhance Blue's visibility within their large customer base."
To learn more about Blackboard platforms, visit Blackboard's Website. More information on Blue and useful resources for enterprise-feedback management software can be found on eXplorance's Website.
About eXplorance
eXplorance is a leading provider of enterprise feedback management solutions for the higher education, corporate training and organizational management markets. eXplorance's solution, Blue, includes modules such as course/instructor evaluation, psychometric/knowledge tests development, 360 reviews, performance appraisals and organization-wide surveys. Unlike other solutions, Blue can fully adjust to your organization needs, whether by tailoring your survey and report formats, integrating easily with your existing software infrastructure, or by offering access support to Blue from a variety of computing platforms. Blue enables organizations to perfect their services by soliciting and analyzing feedback, issuing reports, and then monitoring the improvement in services. Founded in 2003 and based in Montreal, Canada, eXplorance counts many leading organizations as clients, including the University of Pennsylvania, the University of Toronto, the City University of Hong Kong City, the University of Adelaide and many other organizations such as NASA, Discover, the National Bank of Canada, and Fidelity.