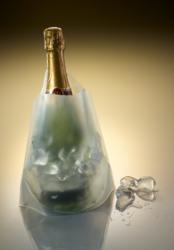 The Ravi Instant Wine Refresher maximizes drinking pleasure while offering sophisticated style and flawless performance. It's a must-have for any cocktail party!
(PRWEB) October 26, 2011
When you open your doors for a cocktail party, you want to do it right. Everything hangs on being "the hostess with the most-est." It's natural to want to 'wow' and please your guests by setting the right atmosphere, and impressing them with delicious foods and proper drinks. Have you always wanted to host a wine-tasting shindig, but don't know the first thing about vino? Don't stress! The following tips will ensure an evening of entertaining success, even for the first-timers out there:
Get Organized! It's the secret to a successful party. You know, the ones that go off without a hitch and leave everyone buzzing the following day. But where do you start? Grab a notepad and create lists so you are sure to cover the bases: guests, menu, décor, and cocktails. Once you've cleared your mind of the essentials, you are free to get creative and start thinking of personal touches you want to sprinkle in to the upcoming event.
Spin That Track! Decide the music genre appropriate for your guests and prepare a mix of songs on your computer or entertainment system. Make sure to have this set up in advance so during the party you can turn it on, and walk away. You don't want to spend the whole night changing songs, or you'll miss out on good conversation.
Have a little extra time? Make a back up genre that includes dance music, in the event your guests want to start groovin'.
Get Your Drink On! Come up with one or two fun mixed drinks. Have them mixed and ready to pour into pitchers, so guests can help themselves. Make sure to have a nice selection of white and red wine. The importance of serving and drinking wine at the right temperature is integral to a proper wine experience - and a great way to ensure a perfect pour is with the Ravi Instant Wine Refresher, an innovative tool that instantly and simultaneously aerates and transforms room temperature wine to that of a wine cellar, between 54 and 64 degrees Fahrenheit.
Even the wine connoisseurs at the party will be impressed with your serving expertise. Especially if you keep the white wines chilled properly throughout the evening in the Ravi Foldable Ice Bucket. Not only do these buckets keep the temperature just right, but they also make great parting gifts for your cocktail party guests (folds up to fit in their pockets!).
Let's Eat! Now that the music is spinning, and drinks are flowing, it's time to indulge in delectable cuisine. Hors d'oeuvres are usually easiest to make and convenient to eat while socializing over cocktails. Offer five to seven choices with a mix of cold and hot. You don't want the kitchen too hot, nor do you want to be stuck at the stove all night. Be sure to offer a few vegetarian appetizers also, so that there is something for everyone. Scatter bowls of nuts, and other grab-as-you-pass cocktail snacks throughout the entertaining area so that no one leaves hungry.
That's it! Feeling ready to put on the cocktail party of the year? You should be… It's simple and fun, and if you follow the tips above, your friends are sure to enjoy a night filled with flawless service, memorable atmosphere, and wine that will properly satisfy their palates. Cheers to you, hostess with the most-est!
For more information on innovative cocktail party products, please visit http://ravisolution.com/.
###