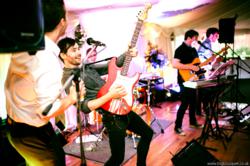 I think a list like this can help brides and grooms in the early stages of planning their own wedding get some great wedding entertainment ideas and maybe think about things they hadn't previously.
London, Greater London (PRWEB UK) 21 March 2013
Whist Warble Entertainment Agency (http://www.warble-entertainment.com) provides live bands and entertainers for hire to events throughout the UK for any kind of party or celebration; the majority of events they cater for are weddings. Last year alone saw the wedding entertainment agency cater to more than 3,000 weddings throughout the UK and Europe. With this in mind, the agency decided it would be a good exercise to find out exactly which live bands and entertainers their customers were booking for their weddings.
After the numbers were crunched and the figures fine-tuned the agency compiled the list of the top ten acts based on the number of bookings performed at between January 2012 and December 2012 and released them on their blog earlier this week.
Warble Entertainment director Matt Warren explains more. "We've always looked at these kinds of statistics because it helps us fine tune exactly what areas we should be further developing and where we may have act shortages. For example, once a wedding band is booked, they are booked. That particular singer a bride and groom may have spent a long time listening to and falling in love with is no longer available. So, it's our job to make sure that we have plenty of back-up options should this be the case. And, when you think that our most popular bands are performing at more than 100 weddings and events every year, and bearing in mind most weddings take place at the weekend, that's pretty much a full calendar."
Matt goes onto explain why on this occasion, the list has been released for general consumption. "As I say, we've always found these lists useful, but we also thought it may be good for brides and grooms to see which bands or entertainers are getting not only the Warble 'Seal of Approval', but that of other couples all over the UK. More often than not, these bands are only available to see on the private circuit, which means it is very rare to be able to watch them actually perform before your special day. And, we appreciate that this is both scary and risky. But, with a list like this you can see that if a band is being booked so many times for certain types of events, in this case weddings, then it is for a reason… they are very good at what they do. Also, I think a list like this can help brides and grooms in the early stages of planning their own wedding get some great wedding entertainment ideas and maybe stumble across things they hadn't thought about previously."
The results in the top ten were broken down into three main categories of wedding entertainment. There were seven wedding bands featuring on the list, two caricaturists and one group of fire performers. "To say I was surprised by some of the inclusions would be an understatement," Matt goes onto say. "Firstly, not only was this the first year since we began taking notes that a caricaturist was included in the top ten, but there were actually two of them. And, we have never had so great an interest in our Fire Performers as we did in 2012. Until last year, they had always sat on the periphery of the list, so it has been a more than obvious jump as they feature at number three this time."
With seven out of the 10 wedding entertainers being live party bands, it would be safe to say that this is a strong area for the entertainment agency. "Live bands and wedding music has always been a massive Warble passion. But, even though the list contains seven bands, I am still very surprised by the type of bands. For example, there is a relatively new band featured in the list called RIOT! And, these guys are heavy. I don't mean, thrash metal heavy, but they rock. Whilst they would be a personal choice for myself, I thought that they might not be everybody's cup of tea. But, with 80 plus bookings in less than eight months, I couldn't have been more wrong. Which, of course, I don't mind one bit."
When asked to give his thoughts on the number one position and the act filling the spot, Matt offers the following: "Number one? Well, I think maybe you should go and check that one out for yourselves. After all, I don't want to give everything away. But, put it this way, you wouldn't be disappointed should this act turn up at your wedding."
To read Warble Entertainment Agency's Top Ten Wedding Entertainment Ideas of 2012 in full go to: http://www.warble-entertainment.com/wordpress/the-top-ten-warble-acts-of-2012/.
Warble Entertainment Agency provides wedding music, wedding bands and wedding entertainment to literally thousands of weddings throughout the United Kingdom every year. The agency was built to make booking live entertainment simple, straightforward and fun. The company has won many website awards and been endorsed by wedding industry professionals and corporate brands since its inception. For more information, please visit http://www.warble-entertainment.com.