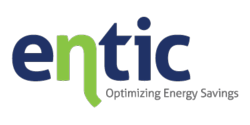 "Entic enables you to have your hand on the heartbeat of the plant and the hospital's energy usage, and I know instantly how the system is running." -- Larry Harrell, Broward Health Medical Center
Pembroke Pines, FL (PRWEB) March 20, 2013
Broward Health, one of the 10 largest public healthcare systems in the U.S., is realizing major energy savings thanks to its decision to select Entic to optimize building energy efficiency for its flagship hospital, Broward Health Medical Center (BHMC). Using Entic's HVAC (heating, ventilation and air conditioning) analytics and optimization solutions, the 1.2MM square-foot, 716-bed facility is on track to generate $250,000 a year in energy cost savings. The solution, which was implemented in 2012, set a new high of $30,000 in savings in the month of November 2012 alone.
"It's an investment that's well worth it," said Larry Harrell, MSM, Facilities Services for BHMC with more than 34 years of HVAC experience. "Entic enables you to have your hand on the heartbeat of the plant and the hospital's energy usage, and I know instantly how the system is running. You can turn things off remotely, troubleshoot from a mechanical standpoint and see where cost savings exist. The rewards are endless."
By implementing its chiller plant optimization solution, Entic is working to achieve superior energy consumption performance for BHMC. The approach is comprised of four broad steps: Capture, Analyze, Act and Learn and uses the company's proprietary HVAC analytics solution, BITS (building intelligence technology solution). BITS integrates with any building management system to gather real-time mechanical and environmental data, and uses predictive energy optimization analytics at the chiller and airside level to maximize HVAC efficiency.
Entic's CEO, Manny Rosendo, explained, "We don't sell equipment, we sell efficiency, and we stick around as your partner. We monitor your targets and commit our resources to maintaining that efficiency. BHMC is a great partner because they are truly committed to getting to the source of the issue and solving real problems. And, that's what we want to do as well."
About Entic
Entic specializes in HVAC chiller plant analytics and optimization, providing commercial and industrial facilities with up to 40% energy savings through its proprietary, cloud-based technology. The company's solutions use continuous, real-time analytics to automate precise corrections and achieve unprecedented performance and economy. For more information, visit http://www.enticusa.com.
About Broward Health
Broward Health, providing service for more than 70 years, is a nationally recognized system offering world-class healthcare services to its neighbors in South Florida. Broward Health encompasses more than 30 healthcare facilities and is a medical safety net for Broward County residents. To learn more about its history, services and mission, visit http://www.browardhealth.org.