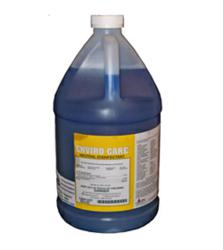 This hospital-grade cleaner is a great product for schools and health institutions as we come into flu season
Landenberg, PA (PRWEB) November 29, 2011
Green Chem Direct's new Enviro Care® Neutral Disinfectant is designed to kill viruses and bacteria while it cleans and deodorizes floors, walls, metal surfaces, stainless steel surfaces, glazed porcelain, plastic surfaces and other hard non-porous surfaces. Just in time for flu season, it is recommended for use in hospitals, nursing homes, schools, colleges, commercial and industrial institutions, and veterinary clinics.
"This hospital-grade cleaner is a great product for schools and health institutions as we come into flu season," states Green Chem Direct's president, Bob Brescia.
The product's environmental and safety benefits include:

Phosphate Free
No Glycol Ethers
Non-Alkaline
NPE Free
Bio-based ingredients
The product offers:
Hard Water Tolerance
Organic Soil Tolerance
Effective against "antibiotic resistant" bacteria strains
Pseudomonicidal, Fungicidal, Virucidal
Cleans, Disinfects, Deodorizes
Effective against HIV-1 (AIDS virus)
Effective against Hepatitis-B & C Virus
Neutral formula will not dull floor finishes
The concentrated product is easy to use. Simply remove heavy soil deposits from surface, then thoroughly wet surface with a solution of two ounces of the concentrate per gallon of water. The solution can be applied with a cloth, mop, sponge, or coarse spray, or soaking. Allow the solution to remain on the surface for a minimum of ten minutes, then rinse or allow to air dry. Rinsing of floors is not necessary unless they are to be waxed or polished. Complete product specifications and directions are available on the Green Chem Direct web site.
About Us
Green Chem Direct specializes in effective, safe Certified Green cleaning and pet products. At Green Chem Direct, we are passionate about providing the best environmentally friendly, bio-based cleaning supplies that are free of harmful chemicals, safe for the environment, and provide superior cleaning performance.
Customer and reseller inquiries can be directed to our web site at http://www.greenchemdirect.com, or phone us toll-free at 855-505-GREEN.
###