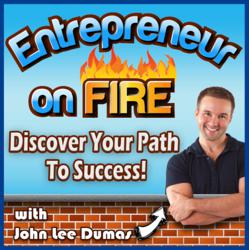 (PRWEB) November 01, 2012
John Lee Dumas has stunned the broadcasting world with the release of EntrepreneurOnFire.com, a free podcast that interviews todays most inspiring and successful Entrepreneurs, 7-days a week.
EntrepreneurOnFire is generating over 100,000 downloads a month and continues to hold the #1 ranking in iTunes New and Noteworthy for the 5th week in a row. John has lined up all-star Entrepreneurs such as Gary Vaynerchuk, Suze Orman, Michael Hyatt, Chris Brogan, Mari Smith, and many, many more.
iTunes subscribe link
EntrepreneurOnFire.com has been featured on NBC, ABC, CBS, and Yahoo News for its unique format and strong influence. One listener quotes, "John is on fire. He's lined up dozens and dozens of in-depth interviews with the top Entrepreneurs in a wide variety of business models. He's passionate, on point, and the interview I was lucky enough to do was one of my favorites in a long, long time. I listen to less than a dozen podcasts - but THIS is now one of them for sure. Love it!" Adam Baker Man vs Debt.
EntrepreneurOnFire focuses on the journey of the spotlighted Entrepreneur. John begins every 30-minute episode with a failure his guest encountered in their past. The journey then moves to that incredible "AHA" moment and the actions taken to turn that moment into the success they now have. Before John let's them go he launches into "The Lightning Round": a round of rapid-fire questions that reveal exciting insights and actionable steps listeners can take to jumpstart their own journey.
Make sure to visit EntrepreneurOnFire's headquarters, where you'll find a treasure trove of free goodies that will help jumpstart any Entrepreneurial venture.
http://www.EntrepreneurOnFire.com
If you are not listening to EntrepreneurOnFire.com while you are driving to work, at the gym, or taking the dog for a walk, then you're missing an incredible opportunity to hear invaluable insights from Entrepreneurs who are sharing their secrets to success.
Let their journey help illuminate your path to success.
John Lee Dumas
EntrepreneurOnFire LLC
207.272.0105
http://www.EntrepreneurOnFire.com
John(at)EntrepreneurOnFire(dot)com