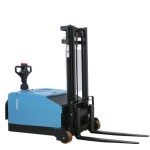 A Plus Warehouse Now Sells EOSLIFTS - many in stock.
Boston,MA (PRWEB) March 27, 2013
Eoslift has been producing electric straddle stackers and electric pallet trucks for years in Asia and Europe. Eoslift is now in the American market, and A Plus Warehouse is a nationwide dealer for Eoslifts.
Eos Lift has a wide and deep offering including electric pallet trucks, electric stackers, scissor lifts,aerial order pickers and work platforms. A Plus Warehouse has added 16 Eos product families to their materials handling website. Each of these new products has a range of sizes and options. Eoslift intends on bringing lead time down to an industry standard amount with a focus on stocking more popular items.
A Plus Warehouse is also a dealer for the Genie Lift line by Terex. Eoslift should be considered a supplement to the Genie line. Eos Lift offers A Plus Warehouse customers scissor lifts and stackers that broaden the Genie offering. With Genie, A Plus Warehouse focuses on the industrial lifts while with Eos, A Plus Warehouse focuses on electric pallet trucks and scissor lifts.
Customers should consider ordering lifts from A Plus Warehouse for a variety of reasons. Not only does A Plus Warehouse ship Eoslift stackers promptly, but they do so at a published price. Many companies publish technical detail, but leave pricing to a negotiation process. A Plus Warehouse published the actual selling price. Typically an A Plus Warehouse selling price is better than the MSRP for capital equipment. A Plus Warehouse also offers support with a trained staff that is ready to answer questions, and process quotes and orders.
Call A Plus Warehouse at 800-209-8798 - the sales staff stands ready to discuss Eoslifts, storage cabinets, conveyors, and any materials handling need.