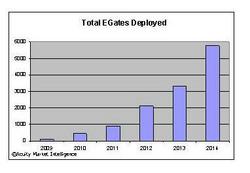 Imminent widespread eGate adoption is the inevitable outcome of the successful implementation of the secure ePassport and eVisa credential platform
Louisville, CO (PRWEB) October 12, 2010
Automated Border Control "eGates" will drive global ePassport and eVisa market revenues to $10.7 billion by 2014 as ePassport adoption reaches 86% of total ePassports issued annually and eVisa adoption reaches 90% of total eVisas applied for annually. This near universal market penetration will drive the next big phase of market expansion and revenue growth - the implementation of Automated Border Control "eGates" that integrate ePassport and eVisa authentication as well as live biometric capture and document verification.
The strongest growth of these eGates during the 2009 - 2014 timeframe is forecast for Asia with annual volume projected to increasing from 300 to nearly 1000 units over this period. Widespread and accelerated global adoption of eGates, however, is not expected until the 2014 to 2020 timeframe. Even with modest growth from 2009 to 2014, eGates will account for an increasingly significant share of the overall ePassport and eVisa market. Total eGate revenue is projected to rise from less than $100 million or roughly 4% of total ePassport and eVisa market revenues in 2009 to more than $2.5 billion or roughly 36% of the total 2014 ePassport and eVisa market of $10.7 billion.
These projections are based on data and analysis from "The Global ePassport and eVisa Industry Report" recently published by Acuity Market Intelligence. Acuity will be discussing these findings along with additional implications for ePassport and eVisa market growth at the Biometrics 2010 Conference in London on October 19, 2010.
"The presentation entitled "ePassport and eVisa market analysis: From technology to operational efficiency" will make the case that imminent widespread eGate adoption is the inevitable outcome of the successful implementation of the secure ePassport and eVisa credential platform" says Maxine Most, a Principal at Acuity.
"We will also discuss how the mainstreaming of eGates drives the true integration of security and facilitation, and the subsequent need for global, industry-wide benchmarks that go beyond technical evaluations to comprehensively assess eGate operational performance," Acuity Principal Rudie Lion adds.
Acuity will be offering complementary industry consultations at the conference. Contact Acuity for more information or to schedule an appointment.
About "The Global ePassport and eVisa Industry Report"
"The Global ePassport and eVisa Industry Report" offers 300 pages of Acuity's trademark brand of hype-free insight. The report includes market analysis and revenue forecasts from 2009 through 2014, with 120 pages of individual country profiles, and more than 190 tables and charts providing detailed forecasts on document and revenue and volumes, and revenue and volumes by technology (biometrics, ePassport document readers, and secure credentials and smart chipsets) and solution components (enrollment, data management, credentialing, verification, and integration).
Previews of "The Global ePassport and eVisa Industry Report" Executive Summary as well as the complete Table of Contents and List of Figures are available at http://www.acuity-mi.com/GePPeV_Report.html.
The report is priced at $7,500 US for a single user license, $10,000 US for a limited Enterprise license (2 - 10 users), and $12,500 US for an unlimited Enterprise license. To order "The Global ePassport and eVisa Industry Report", contact Acuity at +1 303 449 1897 or info(at)acuity-mi.com, or visit http://www.acuity-mi.com/GePPeV_Report.html
About Acuity Market Intelligence
Acuity Market Intelligence (http://www.acuity-mi.com) is an emerging technology strategy and research consultancy with a proven record of accurately anticipating identification solution market trends. The company provides strategic planning, market research and analysis, sector tracking, opportunity sizing, solution and deployment analysis, due diligence, executive briefings, and customized consulting. Founded in October 2001, Acuity is headquartered in Louisville, Colorado with clients in the North America, Asia, and Europe.
###