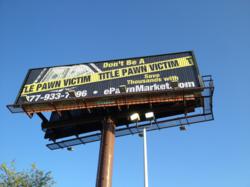 Our Georgia Title Pawn Rescue Loan allows our customers a new deal and more importantly a better deal to save them $100's per month and $1000's over the life of their Georgia Title Pawn Loan.
Atlanta, Georgia (PRWEB) November 05, 2012
Online Pawn Shop and Georgia Title Pawn Loan lender ePawnMarket.com is excited to announce their billboard campaign throughout the State of Georgia!
"Our advertising team decided early on that our ePawnMarket.com Georgia Title Pawn Rescue division would need more of a regional flare and that just using the internet as an advertising medium wouldn't suffice." states Andy M. Anderson, Director of Processing and Logistics. "To that end our Georgia Title Loan advertising team decided to focus billboard advertising on customers that need our services the most, which are those customers looking for a new deal when it comes to Georgia Title Pawn Rescue.
With Georgia Title Pawn Loan billboard slogans like, "Escape the Georgia Title Pawn Grip!" and "Georgia Title Pawn Got You In A Grip?!" and "Don't be a Georgia Title Pawn Victim!" ePawnMarket.com is trying to let Georgia residents know that they have a choice when it comes to obtaining a new deal for Georgia Title Pawn Loans.
"We understand that current Georgia Title Pawn Loan consumers are paying exorbitant interest rates and late fees and ePawnMarket.com is out to change that mantra," states Daniel A. Delnoce, Director of Advertising and Sales. "Without a credit check and without fear of their financial past an ePawnMarket.com customer can borrow $1000 for as little as as $29.99 per month by using the title of their vehicle as collateral. By comparison, our competitors are charging up to $250.00 per month." Delnoce continued.
With rates starting at 2.99% ePawnMarket is changing the face of Georgia Title Pawn Rescue and lending, and by using billboards as a medium to let their customers know they have a choice ePawnMarket.com hopes to continue to offer a new deal to those in need of Georgia Title Pawn Loan Services.
About ePawnMarket.com and its Georgia Title Pawn Loan Division
ePawnMarket.com is one of the world's largest online pawn shops and its Georgia Title Pawn Loan division is one of Georgia's largest and fastest growing Title Pawn Rescue Lenders. By offering customers a new deal and a way out of their current Georgia Title Pawn Trap ePawnMarket.com has placed itself in a position to be an industry leader in not only online pawn shops but Title Pawn Rescue as well. ePawnMarket offers Georgia title pawn loans on cars, trucks, motorcycles, boats, trailers, recreational vehicles and heavy equipment. Customers can secure traditional pawn loans using luxury items of value that they already own as collateral and that can be shipped via Federal Express. By utilizing the title to their vehicles Georgia residents can receive top dollar and fast cash for their vehicle at the lowest interest rates in the State. U.S. Residents may use luxury watches, jewelry, handbags, gold, silver, precious metals, collectibles, and digital SLR cameras as collateral to obtain fast cash safely and discretely from the comfort of their own home. ePawnMarket.com offers free shipping and insurance on all items you buy, pawn, or sell. By offering our "best deal guarantee" customers can rest assured they will receive the ability to obtain fast cash without credit checks or the hassle of cumbersome paperwork due to bad credit. Can't ship your item? That's no problem! We have partnered with hundreds of local pawn shops around the country to offer you fair and honest rates and terms that benefit both the consumer and local pawnbroker.