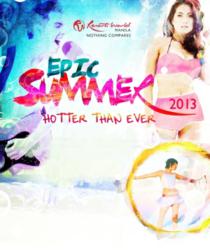 (PRWEB) April 19, 2013
Sundown Sounds features 15 days of set performances headlined by the country's most sought-after bands: Sandwich, Pupil, Up Dharma Down, Pupil, Franco, The Itchyworms, The Dawn, Spongecola, Urbandub, Rocksteddy, Tanya Markova, Indio I, Tropical Depression, Kitchie Nadal, Moonstar 88, Join the Club and many more fill the Newport Mall Plaza with summer's hottest music.
Other enticing offers this summer include the 'Millionaires' Month' promo for a chance to become a millionaire, hotel promos from Resorts World Manila's signature hotels Remington Hotel and Maxims Hotel, mouth-watering dining deals such as the Php188 buffet at Mercado and Cantonese fine dining restaurant Passion's all-you-can-eat dim sum special at Php750.
Resorts World Manila members can also avail of attractive discounts from participating Newport Mall merchants via RWM Exclusives; earn more points and rewards with the Member Get Member deal; and get more perks from the RWM members' Blowout Bundles.
Other events slated for EPIC SUMMER include the final performances of stage triumph 'The King And I', Regular Sunday Mass at the Newport Mall Plaza, and world-class shows at the Bar 360 featuring The Legends, Rock of 80's, and the Goddesses of Belly Dance.
Catch more upcoming events and promos for Resorts World Manila's EPIC SUMMER by logging on to http://www.rwmanila.com or call the Tourist/Visitor Hotline at 632-908-8833 for more details.