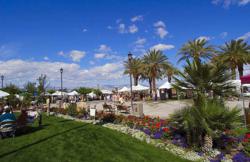 A large percentage of my clients come from the world of art and creativity.
Indian Wells, CA (PRWEB) March 21, 2013
Brad Schmett, Broker Associate with Luxury Homes by Keller Williams and local real estate expert, today announced that the Indian Wells area real estate market will enjoy a significant boost thanks to the upcoming Indian Wells Arts Festival on tap for April at the sumptuous Indian Wells Tennis Gardens located mere minutes from world-famous Palm Springs luxury amenities and central to some of the most in-demand real estate on the planet.
From April 5-7 expect to see thousands of serious collectors, casual art fans and die-hard connoisseurs flood the Coachella Valley to see more than 200 award-winning artists showcase fine crafts and critically acclaimed art. The magnificent Indian Wells Tennis Garden, which just hosted the BNP Paribas Open Tournament, will transform itself into a mystical garden Trail to the Pyramids as the specially created painting of the same name by world renowned mother and son artists Linda Lee Kinman and Dusty Kinman help make the event an epic art adventure.
Schmett recently spoke about one of his busiest months. "A large percentage of my clients come from the world of art and creativity. They find this beautiful valley has the peace, exquisite scenery and inspirational ambiance they seek as world-famous artists. I am able to offer them the lowest home prices in over a decade and one of the largest selections of luxury homes in the region. That is always a winning combination."
Certainly it is hard to beat the classic combination of mixing business with pleasure which makes the Coachella Valley one of the most desirable destinations in the country for those intent on experiencing both. Don't miss the chance to add a unique piece to your own art collection and score on a perfect piece of real estate at the same time.
For more information on the Indian Wells Arts Festival visit http://www.indianwellsartsfestival.com.
To find out more about investing in Indian Wells, CA real estate visit http://indianwellsrealestateinfo.com
About Luxury Homes by Keller Williams: Luxury Homes by Keller Williams – La Quinta, is an exclusive, elite and sophisticated group of real estate consultants raising the bar for service in the Indian Wells and Palm Springs area residential real estate market.