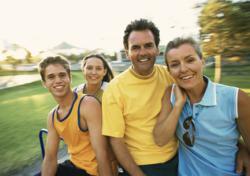 It's clear that pressures on finances over the last few years are having an impact on most aspects of family life – including how parents might be able to support their children in the future
London, UK (PRWEB UK) 14 March 2013
According to new research from leading credit information provider, Equifax*, just over a quarter (26%) say they could only afford up to a £50 increase in household spending before they could no longer meet their financial commitments.
With average household debt growing to £5,946 in December 2012**, this new research highlights just how difficult households are finding managing their finances, as the Chancellor prepares for the Budget statement on 20th March.
The new Equifax data provides an insight into the way families are managing their finances as Neil Munroe, External Affairs Director, Equifax explained. "Not surprisingly, almost all respondents to our survey (89.4%) said that their household spending has increased in the last year, with more than 1 in 5 saying it has increased by more than £100 per month."
"This is quite a worry for people and goes to explain why, for over 40% of respondents, the biggest financial worry is the impact of potential job loss. Interestingly, after this worry, the next biggest concern is any potential increase in taxes (14%), followed by a rise in mortgage rates (13%)."
According to the Equifax research, credit and loans also continue to play an important part in shoring up family finances with more than one in three (38%) saying they turn to credit cards if they are short of money. However, 20% said they would turn to family for help if they got into financial difficulties. And whilst a relatively small number, 5% admitted to using a payday loan if they are short of money.
The Equifax research also illustrates the impact of financial pressures on how parents are supporting their children. 18% of parents who responded to the research said they haven't got a savings account for their children. One in three parents said they are not financially assisting their child or children through university and over a quarter said they don't lend their children money.
"It's clear that pressures on finances over the last few years are having an impact on most aspects of family life – including how parents might be able to support their children in the future," continued Neil Munroe. "Keeping track of spending and financial commitments is, therefore, more important than ever which is why we urge people to apply for a copy of their credit report, allowing them to review their current financial situation so that they can make informed decisions when it comes to spending or applying for more credit and getting the best rates.
The Equifax Credit Report is accessible for 30 days free simply by logging onto http://www.equifax.co.uk. If customers do not cancel before the end of the 30 Day Free Trial, the service will continue at £9.95 per month, giving them unlimited online access to their credit information and weekly alerts on any changes to their credit file. It also includes an online dispute facility to help them correct any errors on their credit file simply and quickly.
The Equifax app is available free from the Apple iTunes Store on iPhone and iPad and from Google Play for Androids.

Equifax surveyed 606 of its customers in March 2013
**Credit Action UK Debt statistics March 2013
About Equifax
Equifax is a global leader in consumer, commercial and workforce information solutions, providing businesses of all sizes and consumers with information they can trust. We organize and assimilate data on more than 500 million consumers and 81 million businesses worldwide, and use advanced analytics and proprietary technology to create and deliver customized insights that enrich both the performance of businesses and the lives of consumers.