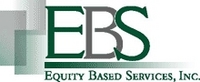 In trying economic times, the ability to successfully raise an Equity Fund proves the power of our core asset- Self Storage Commercial Real Estate
San Diego, CA (PRWEB) October 6, 2009
Equity Based Services, Inc. ("EBS") announced today that it has closed its fourth Private Equity Fund this month. EBS manages a family of Funds for institutional and high net-worth individuals and places this equity into Self Storage Commercial Real Estate projects.
The EBS Income Fund I, the Pilot Equity Value Added Fund, and the EBS Income and Growth Fund II have all successfully deployed equity into both stabilized cash-flow oriented and value-add Self Storage property over the past 3 years.
The EBS Income Fund III has had a successful capital raise and is the second largest Private Equity Fund in the EBS portfolio.
"In trying economic times, the ability to successfully raise an Equity Fund proves the power of our core asset- Self Storage Commercial Real Estate" states Troy Downing, Manager, EBS Income Fund III.
"We have set ourselves apart through our track record and our diligent and successful management strategies. This has proven itself in our ability to continue to attract equity at a time when investors are thinking long and hard about where they want to place their capital." states Stephen Kaplan, CEO, Equity Based Services, Inc.
All EBS Income Fund III capital will be placed in stabilized, cash flowing, Self Storage properties with an emphasis on strong Sunbelt markets.
About Equity Based Services, Inc
EBS is a Private Real Estate Company specializing in the acquisition and management of self-storage property. EBS is one of the top privately held owner/operators in the US. EBS currently owns and operates 63 Self-Storage properties in 11 States with approximately 4.4M Net Rentable Square Feet. For more information, contact Kurt Ambrosius at 619-220-6700.
This Press Release is for informational purposes only and does not, in any way, constitute an offering to buy or sell securities.
###