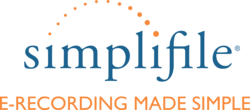 It's amazing to see how much of an impact e-recording has on improving the entire recording process.
SARASOTA COUNTY, Fla. (PRWEB) March 22, 2013
Simplifile, the nation's largest electronic recording (e-recording) service provider, has added its 36th Florida county, Sarasota County, to its network of more than 850 recording jurisdictions across the nation that have adopted e-recording.
As of today, Sarasota County is now accepting electronic documents through Simplifile's web-based recording service enabling organizations like title companies, banks, and law firms to submit land documents for recording more quickly and cost-effectively.
"We're excited to be able to e-record in Sarasota County and to be able to provide both local and national submitters with Simplifile's secure, easy-to-use service," said Paul Clifford, president of Simplifile. "It's amazing to see how much of an impact e-recording has on improving the entire recording process."
E-Recording is not only a significantly faster recording method, but it also eliminates excessive mail costs, courier fees, check-writing, and paper waste. With the ability to e-record, document submitters can avoid driving to or waiting in line at the county office, saving on gas and time spent outside of the office.
Simplifile customers can also e-record in Miami-Dade, Broward, Hillsborough, and Orange counties in Florida in addition to Sarasota and 31 other recording jurisdictions in the state.
For more information about e-recording in Florida call 800.460.5657 or visit simplifile.com.
About Simplifile
Simplifile is the nation's largest and fastest-growing e-recording service. Simplifile supports thousands of e-recording customers including title companies, banks, attorneys, lien filers, and other organizations that create and submit documents to more than 850 local, state, and federal government jurisdictions. Simplifile's electronic document services save time and the expense associated with traditional document submission methods. Simplifile is focused on building the industry's largest and easiest-to-use e-recording service for organizations of all shapes and sizes. More information about Simplifile may be found at simplifile.com or by calling 800-460-5657.
"Simplifile" is a registered service mark of Simplifile, LC.
# # #