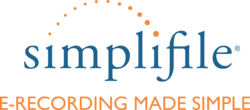 We are excited about e-recording. It will be quicker and more convenient for everyone.
Washington County, NY (PRWEB) March 27, 2013
Electronic recording (e-recording) of land record documents in Washington County, N.Y., is now available through Simplifile, the largest e-recording service provider in the nation.
Organizations including law firms, title companies, and banks are now able to submit documents online using Simplifile's web-based software, reducing mail costs, travel expenses, and wait time for documents to be filed and recorded at the county.
"We are excited about e-recording. It will be quicker and more convenient for everyone," said Washington County Clerk Dona Crandall.
By uploading scanned versions of the documents and submitting them electronically to the county through Simplifile, neither the submitters, nor the original documents ever need to leave the office, as everything is stamped, recorded and returned electronically.
"E-Recording makes the entire process so much easier," said Paul Clifford, president of Simplifile. "Customers don't have to worry about their original documents getting lost or altered en route to the county because they are securely delivered to and from the county with Simplifile."
Users also avoid additional mail fees that often occur when paper documents are sent back or rejected for any reason by the county, as Simplifile e-recording users are not charged any fees for rejected documents. Instead, the user is notified by the Simplifile system if a document or package has been rejected by the county, so the necessary changes can be made and they can quickly resubmit.
Simplifile users may also e-record in Oneida, Rockland, and Westchester counties in the state of New York as well as more than 850 additional recording jurisdictions across the U.S.
Simplifile provides 24/7 support and training for all e-recording customers. For more information about e-recording with Simplifile call 800-460-5657 or visit simplifile.com.
About Simplifile
Simplifile is the nation's largest and fastest-growing e-recording service, supporting thousands of e-recording customers including title companies, banks, attorneys, lien filers, and other organizations that create and submit documents to more than 850 local, state, and federal government jurisdictions nationwide. Simplifile's electronic document services save time and the expense associated with traditional document submission methods. Simplifile is focused on building the industry's largest and easiest-to-use e-recording service for organizations of all shapes and sizes. More information about Simplifile may be found at simplifile.com or by calling 800-460-5657.
"Simplifile" is a registered service mark of Simplifile, LC.