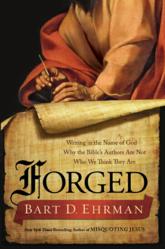 Calling any epistles written falsely in another's name 'forgeries,' Ehrman steps away from academic niceties and convoluted explanations…[a] gloves-are-off review of New Testament authorship. — Kirkus Reviews
San Francisco, CA (Vocus/PRWEB) March 21, 2011
According to leading biblical scholar Bart Ehrman, many of his contemporaries have it wrong when it comes to the Bible. Instead of calling biblical forgeries what they are—lies—they often fall back on safer scholarly terms, stopping just short of the word "forgery."
Ehrman, however, is not afraid of breaking rank with his fellow scholars and speaking the truth. In his new book, Forged: Writing in the name of God—Why the Bible's Authors Are Not Who We Think They Are (HarperOne; April 2011), the New York Times bestselling author debunks many popular myths about the Bible's forged books and letters, including the idea that "writing in the name of another" was a common, accepted practice in antiquity. According to Ehrman, forgery was just as disgraceful then as it is today.
In Forged, Ehrman reveals:

The Apostle Peter was illiterate, and therefore could not have written two letters (1 & 2 Peter) credited to him in the Bible.
Six of the Pauline letters in the New Testament are forgeries.
The First Book of Timothy, known to be a forgery, is still used today to oppress women, and provides the Scriptural basis for the Roman Catholic Church's refusal to ordain female priests.
Posing the provocative argument that parts of the Bible contain intentional deceptions, and that some of its texts were deliberately and painstakingly crafted to further the agendas of Christians living after the apostles, Forged will again turn upside down what we "know" about the Bible.
About the Author
Bart Ehrman is the author of more than twenty books, including the New York Times bestselling Misquoting Jesus, God's Problem, and Jesus, Interrupted. Ehrman is the James A. Gray Distinguished Professor of Religious Studies at the University of North Carolina, Chapel Hill, and is a leading authority on the Bible and the life of Jesus. He has been featured in Time and has appeared on NBC Dateline, The Daily Show with Jon Stewart, The Colbert Report, CNN, History Channel, and other top media outlets. He lives in Durham, North Carolina.
Praise for Forged:
"Calling any epistles written falsely in another's name 'forgeries,' Ehrman steps away from academic niceties and convoluted explanations…[a] gloves-are-off review of New Testament authorship." — Kirkus Reviews
"Written in a manner accessible to non-specialists, Ehrman argues that many books of the New Testament are not simply written by people other than the ones to whom they are attributed, but that they are deliberate forgeries.…Ehrman's introduction to the arguments and debates among different religious communities of the first few centuries and among the early Christians themselves…is especially valuable." — Publishers Weekly
Select Praise for Bart Ehrman:
"Ehrman's clarity is something to emulate." — Lisa Miller, Newsweek
"[A] serious inquiry.…Ehrman pursues it with an energy and goodwill that invite further conversation with sympathetic and unsympathetic readers alike. This book (God's Problem) neither trivializes its subject nor demonizes those who have a different view of it, which is more than can be said for the efforts of those fashionable atheist writers whose major form of argument would seem to be ridicule." — Stanley Fish, New York Times
"Ehrman's career is testament to the fact that no one can slice and dice a belief system more surgically than someone who grew up inside it....There's something delicious (for nonbelievers, anyway) about the implacable, dispassionate way that Ehrman reveals how the supposedly 'divine truth' of Christianity was historically constructed." — Salon.com
FORGED
Writing in the Name of God—Why The Bible's Authors Are Not Who We Think They Are
By Bart Ehrman
HarperOne, an Imprint of HarperCollinsPublishers
April 2011 | $26.99 | Hardcover | ISBN: 9780062012616
# # #