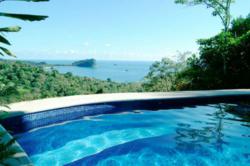 Villas and beach rentals are fast becoming a preferred accommodation among travelers to the country
San Jose, Costa Rica (PRWEB) March 11, 2013
In February 2013, the Costa Rican Tourism Institute (ICT) announced that the popular Latin American beach vacation rental destination of Costa Rica would increase its total number of hotel rooms by 1,309. These additional rooms are slated to open before November 2014. According to the ICT, the country had 43,715 hotel rooms at the end of 2010, and this number grew to 45,531 by 2012, a substantial increase of 1,816 rooms during this two-year period.
In a February 12, 2013 article published in Costa Rican newspaper La Nacion, Hermes Navarro - Tourism Management Leader of the ICT - communicated his confidence in this new growth, and is optimistic to see a rebound in smaller, boutique hotels. He stated, "We are pleased business is clearly growing and this is boosting competition." Guanacaste Chamber of Tourism, President Alvaro Conejo, also confirmed there has been a steady resurgence in the hotel sector in that province. At present, seven new hotel projects are currently under construction in Costa Rica, with plans to open between now and 2014.
The Costa Rican Tourism Board estimates that some 2.3 million people visited the country in 2012 – a figure that gives hope to many businesses in the travel sector. If these projections are on target, last year would boast the highest number of tourist arrivals to date in Costa Rica. Among some experts in the local tourism industry, there has been speculation that the convenience and popularity of Costa Rican vacation rentals has contributed to the recent tourist boom. Escape Villas, a respected Costa Rica vacation rental operator, confirms a nearly 100 percent occupancy rate for the past year, indicating that villas and beach rentals are fast becoming a preferred accommodation among travelers to the country.
Those in the local travel industry have begun diversifying their business strategies in an effort to attract more guests. While eco-travelers still make up the bulk of annual Costa Rican tourists, a rising percentage are arriving for other pursuits including medical tourism, destination weddings and corporate events. Escape Villas spokesperson Sara Hopkins states, "Our clientele is rapidly evolving. In addition to vacationing families and groups of friends, our regular customers now include newlyweds and honeymooners who are looking for the ultimate in romance and book our luxury oceanfront vacation rentals." Escape Villas has been in business for nearly 15 years and has properties catering to all budgets and tastes in celebrated beach towns like Tamarindo, Jaco, Manuel Antonio and Playa Flamingo.
Another positive indicator of recent tourism growth is the addition of several new routes among airlines, which are increasing their number of flights to Costa Rica's San Jose and Liberia international airports. In 2012, Iberia Airlines added more direct flights from Madrid to San Jose, and Copa Airlines recently began offering two weekly flights from Panama to Liberia. Additionally, United Airlines announced its intentions to initiate weekly non-stop service between Chicago and Washington-Dulles and San Jose (SJO) beginning in April 2013.
The ICT may witness a banner year for Costa Rica tourist arrivals in 2013, and with more hotel rooms and vacation rental properties to choose from, visitors will have no shortage of options when it comes to lodging. According to Sara Hopkins, Escape Villas is projecting a record number of bookings for the upcoming year as well, with more visitors opting for the value and creature comforts available in vacation homes. Hopkins adds, "We enjoy going the extra mile for our guests, whether that means arranging their adventure tours, stocking their fridges with groceries, or helping them plan a special occasion or wedding."