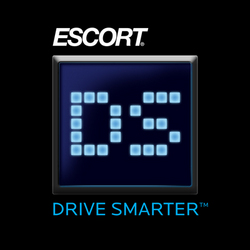 This is a very dealer friendly product. We are excited about presenting this opportunity to automotive retailers at SEMA--we believe the Qi45™ Custom Installed Radar and Laser Detector is the perfect product for automotive accessory installers
West Chester, OH (PRWEB) October 19, 2009
ESCORT Radar, maker of the world's best radar and laser detectors, will display its 'Drive Smarter' series of driving products at the 2009 SEMA (Specialty Equipment Market Association) trade show in Las Vegas (November 3 - 6, Las Vegas Convention Center, Booth 10325, North Hall). ESCORT will be announcing the release of its newest product, the Qi45 Custom Installed Radar Detector, a quick install system designed to help increase margins for installers and dealers. "With the new Qi45™ radar detector we have opened the top-of-the-line detector platform to traditional cost conscious customers and at the same time, we have given car dealers, who are typically concerned about tying up garage bays, an effective solution to providing their customers with the world's best custom installed radar protection," said John Larson, ESCORT's President and CEO. "This is a very dealer friendly product. We are excited about presenting this opportunity to automotive retailers at SEMA--we believe the Qi45™ Custom Installed Radar and Laser Detector is the perfect product for automotive accessory installers," said Larson.
ESCORT will highlight their newest 'Drive Smarter' automotive product lines, Entourage GPS Personal Security devices and the unique SmartMirror™ OEM Replacement Rear View Mirror with built-in GPS Navigation.
ESCORT will also feature their complete line of radar detector products including the just-released REDLiNE windshield mount long range radar and laser detector and the award winning PASSPORT 9500ix and 9500ci radar and laser detectors with built-in GPS. "We have many exciting opportunities for automotive specialists, after market installers and professional dealers that we are ready to share at SEMA. The CE automotive market has certainly been harsh--we especially want to show retailers how our products can help their customers drive smarter while bringing retailers and dealers increased margins," said Dave Smidebush, ESCORT's Vice-president of Marketing. "We have a world class suite of products designed to accommodate every type of customer that automotive retailers serve. ESCORT products are easy to present, easy to close, and they bring a substantial incremental profit to the retailer's bottom line," he added.
ESCORT and Rahal Letterman--Le Mans Series Racing
In addition to showcasing and announcing new products, ESCORT is inviting SEMA Show attendees to visit the booth and meet two-time Indy 500 winner and International Motorsports Hall of Famer, Bobby Rahal. Mr. Rahal, President and CEO of the Bobby Rahal Automotive Group, is appearing in the ESCORT booth on Wednesday, beginning at 10 AM. Mr. Rahal and ESCORT have partnered--ESCORT is a sponsor of the BMW Rahal Letterman, Le Mans Series Racing Team and will have a Team Rahlal BMW race car in the booth. Mr. Rahal is also the owner, and a driver for the Rahal Letterman Racing Team.
SEMA New Product Announcement: PASSPORT Qi45 Custom Installed Radar Detector
ESCORT will announce and present for the first time, their newest product, the Qi45™ Custom Installed Radar and Laser Detector. Based on the award winning PASSPORT 8500 X50 radar detector platform, the Qi45™ Custom Installed Radar and Laser Detector continues ESCORT's industry leading role. ESCORT created the new Qi45™ Custom Installed Radar and Laser Detector to offer customers a more comfortable price point for a custom installed solution. And the new Qi45™ design addresses car dealer concerns about allocating scarce shop time resources for performing an accessory installation, like a custom installed radar detector. The Qi45™ is a 'quick install' custom unit that combines traditional connectors, cables and previously separated functionality into a compact, easy-connect, cost effective system. The Qi45™ reduces the cost to the customer and it gives dealers an easy to install accessory.
ESCORT--More than Radar Detectors
ESCORT will also be displaying several new product lines at SEMA. New products include: the ESCORT SmartMirror™, an OEM replacement rearview mirror with integrated GPS navigation, Bluetooth® equipped for hands-free mobile phone operation (compatible phones), and an optional backup camera for accident free backing; the Entourage PS(portable solution) and Entourage CIS(custom installed solution) GPS Personal Security products that can track and secure your prized possessions like your children, your car, truck or motorcycle. The PS model incorporates an internal rechargeable battery and is portable enough to go anywhere, while the CIS model is designed to be permanently installed in a vehicle and offers additional features such as always-on cellular communication, tamper-sensing capability and automated arming and disarming with its wireless key fob.
The world's Longest Radar Detection Range: REDLiNE
The new REDLiNE™'s test-shattering performance represents another leap forward in detector technology for the industry and ESCORT. "REDLiNE™ was specifically designed for our hard-core customers who want to know about every signal at the longest possible range." said Tim Coomer, ESCORT's Vice-president of New Product Development. "We tested the new REDLiNE™ at the Speed Measurement Labs annual shootout a couple of weeks ago, and they could not find a range long enough to measure the limits of its performance, even after it was extended to 13 miles!" he added.
ESCORT--the World's First Internet Ready, GPS-based Radar Detectors
Also on display will be ESCORT's line of the world's first internet ready, GPS based radar detectors--the PASSPORT 9500ix windshield mount model and the PASSPORT 9500ci custom-installed version. Both models established a new technology standard by introducing patented features including AutoLearn™ artificial intelligence. AutoLearn™ uses GPS technology to automatically eliminate false alerts by indexing their exact location and frequency.
ESCORT's Drive Smarter products and ESCORT experts will be on hand to demonstrate products and answer questions (#10325, North Hall). ESCORT's complete line of products can be seen online at Escortinc.com or contact ESCORT at 800.433.3487.
About ESCORT, Inc.
ESCORT Inc. is the leading manufacturer of high-performance radar and laser detectors. ESCORT manufactures products under the ESCORT, PASSPORT, SOLO, Vector and BELTRONICS brands. The company is headquartered in West Chester, Ohio with its principal manufacturing facility located in Mississauga, Ontario, Canada.
Editorial Contact:
Ron Gividen
513.870.8500
press (at) escortradar (dot) com
###