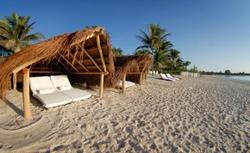 Beaumont, TX (PRWEB) January 13, 2009
Playa Xpu-Ha, Mexico (PRWEB) January 13, 2009 -- In case you didn't know, enjoying nature, walking on the beach and listening to waves crashing do not cost a thing. So instead of worrying about what you can't afford in this troubled economy, think of what you can enjoy for free. That's why Riviera Maya's 29-room Esencia, the former seaside estate of an Italian Duchess, wants to enlighten travelers with "Seven Stress Relievers " guest can indulge in that won't cost them a penny.
The Complimentary "Seven Stress Relievers" include:
1. Waking up to the sounds of birds chirping and enjoying complimentary coffee or tea and homemade bread delivered daily in your suite terrace
2. Stretching the body and clearing the mind with daily yoga classes offered seaside
3. De-stressing at the organic Aroma Spa's Mayan-style dome steam room and partially open-air Jacuzzi while sipping herbal tea
4. Indulging in seasonal fruits and full Mexican and American breakfast dishes served on the estate's open terrace or poolside
5. Sipping high tea in the estate's living room, making friends and treating yourself to homemade pastries
6. Enjoying in-room amenities including bottled water, soft drinks and beer as well as listening to a compilation of music from the in-room iPods
7. Taking long walks on the secluded beach of Playa Xpu-Ha, breathing in the fresh air and listening to the sound of the waves from the Riviera May's Caribbean Sea
Rates at Esencia estate start at $545 a night for a Garden Room. The cost for the "Seven Stress Relievers" is ZERO. Please call 877-528-3490 or visit the Esencia website for reservations.
About Esencia Estate
The 50-acre private estate, located on Playa Xpu-Ha, 46 miles south of Cancun, is the essence of simplicity, elegance and beauty. Its 29 spacious suites and cottages include a range of features from private gardens and solariums to deep-soaking plunge pools. The estate is operated by ProHotel International of Houston, which also operates the celebrated La Pleta by Rafael Hotels in the Spanish Pyrenees and Casanova by Rafael Hotels in Barcelona, Spain.
The Main Dining Room
The dinner menu specializes in Meso-American cuisine, using traditional Yucatecan methods such as banana-wrapped fish and meat cooked in a pib (an earth oven). The menu showcases the freshest local seafood as well as dishes from the rest of Mexico, all flavored with organic herbs and fresh fruits and vegetables. The ambience combines Mexican flair and rustic simplicity, with its palapa roof and view of a cenote, an illuminated underground fresh water pool.
Aroma Spa
Fully organic from its architecture to its products, the Duchess's oasis harvests its own lush herb garden for use in treatments. Five treatment rooms, four Jacuzzis, two Mayan-style domed steam rooms and a beachside Temazcal Mayan Sauna are also available.
###