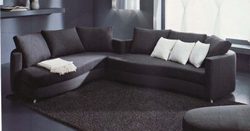 Wholesale Furniture Brokers is a strong and reliable partner with a knack for innovation and ability to deliver great customer value
Miami, FL (PRWEB) July 16, 2008
Finding new styles of furniture to capture new niche markets is one of the key components to adding new brands to the Wholesale Furniture Brokers furniture collection. Customers shopping for furniture have different backgrounds and tastes in furniture. Wholesale Furniture Brokers wants their customers to find new and familiar styles that will make them excited to shop Wholesale Furniture Brokers again and again. ESF (http://www.esf.cc) brings customers of Wholesale Furniture Brokers fresh styles of modern and traditional furniture from established manufacturers in Spain and Italy. Furniture manufactures from Eastern Europe and Asia will soon be added to the Wholesale Furniture Brokers collection.
ESF started in 1995 and has quickly become a leading national furniture wholesaler with exclusive distribution rights from renowned European manufacturers such as Camel, SMA, Tre Ci, Benicarlo, Dupen, Mass Muebles, and Rimobel. In exchange for exclusive distribution, ESF is responsible for fast and reliable distribution in the USA. ESF carries a vast stock from each of the European manufacturers at their Staten Island warehouse. They incorporate the latest inventory management software to ensure that the stocked items are always available for pick-up. ESF also offers a special order program from each of the European manufacturers with an estimated 3-4 month lead time. Customers of Wholesale Furniture Brokers can expect an unparallel selection of the highest quality furniture across all price ranges and styles with ESF furniture.
"Wholesale Furniture Brokers is a strong and reliable partner with a knack for innovation and ability to deliver great customer value," says ESF's general manager, Yuliya Zubriy. "They closely match ESF's core beliefs in total client satisfaction and continuous improvement, making Wholesale Furniture Brokers a natural choice."
Each manufacturer that ESF partners with offers a wide range of prices and unique designs. "In this global market, our customers are searching for a variety of styles that are unavailable in their local stores," says Jeff Penner, affiliate outlet manager for WFB, "New designs from all over the world help us stand out from the rest."
Since 1983, Camel has manufactured and exported bedroom, dining room, fabric and leather sofas from their factory located in Northeast Italy. New materials and designs keep the manufacturer unique and appealing. Camel uses wood, hardware, glasses, and metal components that are strictly Italian origin. With over 25 years of experience, Camel has developed strong packaging for their furniture that can withstand traveling long distances to reach customers around the world.
Dupen was founded in Valencia, Spain, 41 years ago. This European manufacturer produces all types of bedroom furniture, mattresses, bed frames, and accessories for sleeping. Dupen has been awarded numerous awards throughout the years including leader of exports in Valencia, Spain. Their products are well-known for quality and up-to-date designs. Tre Ci's skilled craftsmen combine artisan traditions with modern industrial production. Their high-end, excellent quality, unique design lines make Tre Ci stand apart from its competition. With over 50 years of manufacturing experience in Spain, Muebles Benicarlo creates contemporary and modern bedroom furniture that has competed well in the USA market for over 11 years.
SMA Spa has specialized in bedroom and dining room furniture since it was founded in 1960 by top Italian designers. SMA Spa produces a wide range of modern furniture from its factory in Northeast Italy. When furniture is shipped from SMA Spa, it's packaged with international standards with particular care to glass and gloss surfaces. Mass Muebles produces two distinct furniture collections - Raices and Suenos. Located in Valencia, Spain, Mass Muebles focuses on contemporary beds, wardrobes, and accent shelves. Rimobel furniture is manufactured in Spain. They produce sophisticated bedroom sets, bookshelves, entertainment centers, wardrobes, platform beds, and home office furniture.
A Furniture Packing manual has been developed by ESF to ensure the highest packaging and quality standards with all of the European manufacturers. For example, the manual states that loose components must have protection between them and other surfaces, edges and corners must be protected against carton rugs with foam, and legs must be protected by bubble plastic wrap, thick foam, or strips of cardboard paper. The actual packaging ESF uses includes double craft carton boxes, plastic corner protections, polyester foam if needed, foam sheets to protect delicate surfaces, and very clearly marked boxes. When furniture arrives at the home of Wholesale Furniture Brokers' customers, detailed and easy-to-assemble instructions are included in the packaging. ESF is constantly improving their manual to reflect the latest findings.
ESF is continuing to grow their partner network throughout the emerging markets which will help keep prices on Wholesale Furniture Brokers competitive, even through tough economic conditions. They are also regularly updating their middle end collections with the newest living room furniture from Asia. Customers of Wholesale Furniture Brokers can soon expect the Asian sectional sofas that combine contemporary styling with high quality leather at affordable prices. The ESF catalog is constantly being revised on a quarterly basis giving Wholesale Furniture Brokers another new line of furniture in September.
About Wholesale Furniture Brokers:
Since Wholesale Furniture Brokers launched GoWFB.com in 2002, customers in the USA and Canada have been experiencing the revolutionary "Click and Mortar" shopping experience with more than 30 independently owned affiliated outlets. Shoppers can now order even more new European and Asian designs at Wholesale Furniture Brokers. Furniture businesses and interior designers interested in ordering furniture available on GoWFB.com including ESF furniture can sign up to Wholesale Furniture Brokers' furniture dealer and vendor program.
###