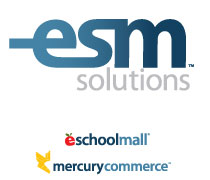 We continue to invest and expand features, functionality, usability, and integration, further making our offerings the eProcurement solutions of choice for public sector
Warrington, PA (PRWEB) September 27, 2012
ESM Solutions, the leading provider of SaaS-based spend management solutions for the public sector, announced their intent to simplify the customer experience by eliminating use of two distinct brand names. eSchoolMall has been the brand name associated with their K-12 and educational service agencies' customers. Mercury Commerce has been the brand name associated with their higher education, state and local government and commercial customers. Both brand names will become part of the company history.
The legacy of these two distinct brands enabled ESM Solutions to create differentiation at a time when the markets warranted uniqueness, ultimately contributing to ESM Solutions growth for more than a decade. Now, the market demands simplification and ease of use. ESM Solutions will place marketing emphasis and focus on their leading eProcurement solutions, easySourcing™ and easyPurchase™.
"easySourcing and easyPurchase are not new. These are the product suites we have delivered to customers for many years," says Mark Smith, Chief Operating Officer ESM Solutions. "We continue to invest and expand features, functionality, usability, and integration, further making our offerings the eProcurement solutions of choice for public sector."
Current customers, suppliers and vendors will continue to receive the same great service, product support and reliability, along with the simplified approach to product naming.
About ESM Solutions
ESM Solutions gives customers complete control of their spending through an easily implemented, integrated suite of sourcing and purchasing products. With extensive experience in the education and public sectors, our SaaS solutions have been built with the end-user experience as the first priority. Ease of use is important up and down the approval chain to enable efficient and transparent procurement processes. ESM Solutions helps customers meet the operational and management objectives while also accelerating adoption by the end-user community. As the first online procurement provider for public sector, and the first to deliver finger-friendly navigation for smartphones and tablets, ESM Solutions is an innovator, continuing to push the industry forward. http://www.esmsolutions.com