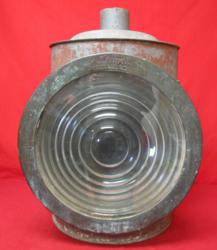 The Housatonic Railroad was one of the first railroads that existed in the northeast
Eastern Shore, DE (PRWEB) March 06, 2013
Estate Auctions Inc is please to offer an original steam locomotive headlight. Made between 1852 and 1866, and signed by the manufacturer, The Brooklyn Flint Glass Co. 30 South Williams Street, N.Y. Above that it reads, GILLILAND'S DIOPTRIC LENS PATENTED AUG 10TH, 1852.
"Once again we are offering a rare and unusual find, and shipping it free. This is a museum quality piece and we're honored to be selling it on eBay. The story behind the lamp is rich in history and the condition is very good." says Norb Novocin, owner of Estate Auctions, Inc.
This headlight would have ridden lit the way for many years on a Housatonic Railroad locomotive. It has the original lens, (a couple of inside chips to the bulls eye rings, but no cracks), and the original body. The Housatonic Railroad was one of the first railroads that existed in the northeast. It was built, among other reasons, to take advantage of goods flowing from the many industries of Litchfield County, in the Housatonic Valley.
Estate Auctions Inc has made this opportunity even more attractive with free shipping to anywhere in the United States. The auction closes March 11, 2013, at approximately 9:30 PM EST.
The Estate Auctions, Inc. team specializes in handling consignments, rare and valuable antiques, and collectibles. They continually satisfy a loyal customer base and have published Getting Sold on eBay, The Treasure Hunter's Guide to Making Money, a book receiving stellar reviews and national attention.
To learn more about upcoming items for sale or consigning information, please contact Estate Auctions, Inc. on Facebook.com/EstateAuctions, or call 1-800-573-3508.