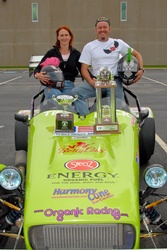 Organic Racing is thrilled with the competitive rivalry of teams such as the Corcorans, DaVia/Wikstrom, Blaha, Babcock, Swan and many others, making racing and spreading the organic message a joy
Douglasville, GA (PRWEB) June 11, 2008
Kevin Boulton and Doc Harmony, co-drivers for Organic Racing Team, delivered a stellar performance without sacrificing principles at Tire Rack's One Lap of America. Organic Racing's third-place finish proves that a race team can leave a zero carbon footprint and still be fast.
Believing in its organic message, Organic Racing set out to prove that its eco-friendly racecar is one of the fastest street-legal cars in the nation. Organic Racing competed against an array of fast cars, ranging from BMWs, Corvettes and Mongooses to highly modified Cadillacs and Porsches. The team traveled seven days, participating in all 18 track events and in a variety of courses, from drag racing to road racing to auto crossing. Only DaVia's race-prepped Porsche 996 and Smith's ARC Hennessy Viper collected more points than the open cockpit eco-racer.
"Organic Racing is thrilled with the competitive rivalry of teams such as the Corcorans, DaVia/Wikstrom, Blaha, Babcock, Swan and many others, making racing and spreading the organic message a joy," Boulton says. "The 25th Anniversary of One Lap of America left many surprises, but the biggest one of all was seeing our team move through the ranks with our little green giant slayer."
Boulton and Loren Edwards, Organic Racing Team's co-creator, crafted the World Class Motorsports Ultralite, a Lotus 7 replica, in three months. The ethanol-fueled vehicle was made for less than $30,000, using recycled parts when it would not jeopardize the team's safety.
Driving hundreds of extra miles so the team could run 100 percent on Ethanol (E85), Boulton and Harmony arrived at the finish line at the end of their 4,060-mile trek extremely pleased with their third place finish.
"Organic Racing enjoys spreading its message across America -- food is fuel and organic food is high octane fuel!" Harmony says.
Braving the elements of freezing, cold weather, torrential downpours and blistering sun, like their car, Boulton and Harmony pulled off the 4,000-plus mile race fueling their bodies with organic fuel -- organic foods. Team sponsors provided the tools they needed: Steaz organic energy drinks, Betty Lou's organic snacks, Sovereign Silver to heal their cuts and burns, Organix South's Neem products to keep them vital and clean, Dr's Relief Cream for achy backs and Orange TKO to keep the car clean.
For more information on the Organic Racing Team and the third-place finish its ethanol-fueled vehicle earned at One Lap America, visit http://www.organicracing.com .
Contact
Kevin Boulton
3318 Highway 5, #410, Douglasville, GA 30135
770-315-5724 or 678-314-3906
kevin@organicracing.com or harmony@harmonycone.net
# # #