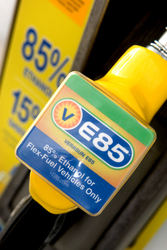 Our Kroger fuel centers have been leaders with new fuel products and services like E85 and fuel rewards.
Brookings, S.D. (Vocus) February 26, 2008
VeraSun Energy Corp. (NYSE: VSE), one of the nation's largest ethanol producers, and The Kroger Co. (NYSE: KR) today announced the opening of 20 VE85™ fueling locations at existing E85 Kroger convenience stores in Texas. Kroger will offer VeraSun's branded E85, a blend of 85 percent ethanol and 15 percent gasoline, for flexible fuel vehicles at 20 different locations in and around the Dallas and Houston metro areas.
"The combination of an established Kroger brand with our emerging VE85™ brand is important as we continue to expand to new markets," said Bill Honnef, VeraSun senior vice president, strategic initiatives. "There is a growing demand for E85 in the United States as the number of flexible fuel vehicles on our roads increases, and having a partnership with a national retailer like Kroger adds tremendous value to our initiative of increasing overall E85 availability."
With the addition of the 20 VE85™ fueling locations in Texas, VeraSun now has more than 140 retail fueling stations in 13 states and the District of Columbia. VeraSun and Kroger initially partnered in August 2007 to open VE85™ fueling locations at 20 Kroger convenience stores primarily in Ohio, making Kroger the first national retailer to sell VE85™. With the addition of the Texas locations, VE85™ is now available at 44 different Kroger fueling locations in four states.
Headquartered in Cincinnati, Kroger operates almost 2,500 supermarkets and multi-department stores in 31 states. The company also has more than 750 convenience stores and 650 supermarket fuel centers. Currently the state of Texas has 30 retail E85 fueling locations, 20 of which are Kroger locations.
"We look forward to offering VE85™ to our customers who have flexible fuel vehicles," stated Roman Williams, Kroger southwest fuel merchandiser. "Our Kroger fuel centers have been leaders with new fuel products and services like E85 and fuel rewards."
According to the Texas State Energy Conservation Office, Texas has more registered flexible fuel vehicles than any other state. The National Ethanol Vehicle Coalition estimates that number to be more than 500,000 registered FFVs.
E85 is a high-octane, cleaner-burning fuel, with an octane rating of 100 or greater and the highest oxygen content of any fuel available today. The Argonne National Laboratory reported that the use of 6.5 billion gallons of ethanol in the United States during 2007 resulted in the reduction of greenhouse gas emissions by approximately 10 million tons. The use of E85 alone contributes to a 20 percent reduction in ozone-forming pollution and a 30 percent reduction in greenhouse gas emissions.
VE85™ was launched in May 2005 with seven stations in Sioux Falls, S.D., and is now available in Chicago, Minneapolis-St. Paul and Pittsburgh, in addition to the Ohio metro areas of Cincinnati, Columbus and Toledo. In June, VeraSun, General Motors and Enterprise Rent-A-Car partnered to open the first E85 retail location in Washington, D.C.
VeraSun is committed to developing markets for renewable fuels and helping consumers realize a future that includes renewable energy. Consumers interested in learning more about VE85™, and where to find VE85™ stations, can visit http://www.VE85.com.
About VeraSun Energy Corporation
VeraSun Energy Corporation (NYSE: VSE), headquartered in Brookings, S.D., is a leading producer of renewable fuel. Founded in 2001, the company has 560 million gallons per year (MMGY) of production capacity through five operating ethanol production facilities in Aurora, S.D., Fort Dodge and Charles City, Iowa, Linden, Ind., and Albion, Neb. Four facilities are currently either under construction or development in Hartley, Iowa, Welcome, Minn., Reynolds, Ind., and Bloomingburg, Ohio. Upon completion of the new facilities, VeraSun Energy will have an annual production capacity of approximately one billion gallons. The company also has begun construction at its Aurora facility to extract oil from dried distillers grains, a co-product of the ethanol process, for use in biodiesel production.
VeraSun markets E85, a blend of 85 percent ethanol and 15 percent gasoline for use in Flexible Fuel Vehicles (FFVs), directly to fuel retailers under the brand VE85™. VeraSun Energy now has approximately 150 VE85™ retail locations under contract in more than a dozen states and Washington, D.C. For more information, please visit VeraSun Energy's websites at http://www.verasun.com or http://www.VE85.com.
###