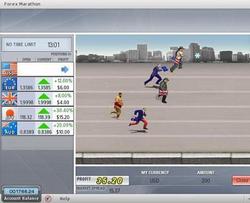 We wanted to appeal to a wider audience, to both experienced and novice traders.
Hammond, IN (PRWEB) September 10, 2007
eToro: http://www.eToro.com introduces a Forex trading platform based on a revolutionary concept that allows users to do financial trading in the foreign exchange market in a game-like setting. eToro has pioneered a new display, breaking new ground with a concept of animating trades: currencies run marathons, pull ropes or relate to each other connecting strings between their countries on a world map. Users trade with a cowboy or a sumo wrestler, they participate in prize-winning championships, chat, and trade for practice as well as for real money; it is evident that eToro redefines "user friendly."
"These days Forex trading platforms are simply too complicated. Even individuals who are eager to join the online Forex market are turned off by the density of these platforms," said Ronen Assia, one of eToro's founders. "We wanted to appeal to a wider audience, to both experienced and novice traders."
eToro ushers in an era of software power and sophistication never before seen in a financial trading platform, which completely redefines what non-professional traders can do.
The simple, clever and clear visuals that eToro uses to represent the Forex market, democratize the Forex trading world. Thanks to eToro, the Forex--one of the world's largest financial markets--no longer belongs to a limited few. eToro enables a large audience to take part in it. eToro allows users to trade with as little as $ 25 margin, and automatically puts in stop loss orders for its users to decrease the possibility of greater losses than intended.
eToro replaced Forex's heaviness with lightness and fun, and instead of being exclusively elitist, it has become inclusive. eToro has not only transformed the Forex market into a welcoming one, but has also transformed it into an engaging and enticing one, all the while remaining serious, credible, and of course educational.
In this new age in which forms of communication are constantly being reexamined and new technologies are being invented, it was time for a change in the financial trading world too, and eToro has brought this long awaited change.
Founded in 2006 by three young professionals who were eager to challenge the foreign exchange market, eToro is collaborating with several Forex companies who wish to offer the eToro trading experience to their customers with their Forex trading platform.
For more information on the Forex trading platform or financial trading, please visit eToro at: http://www.etoro.com or contact Ronen Assia at: ronen @ etoro.com
Contact:
Ronen Assia,
Head of Public Relations
###