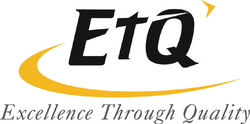 We are truly delighted with the outstanding turnout at this year's event
Farmingdale, NY (Vocus) November 9, 2010
EtQ's 14th Annual User Conference proved to be yet another successful event for EtQ, with an unprecedented turnout and EtQ's staple networking opportunities.
The 3-day conference brought in the highest attendance of any EtQ User Conference to date, resulting in a 60 percent increase in attendance for both the Conference and the Reliance Passport.
Held at the South Seas Island Resort in Captiva Island, FL, the event was, as in previous years, designed as a venue for customers to showcase their innovations, learn about new products and features, and network with their peers. Attendees were even given a front row seat into the latest enhancements available in Reliance 8.0. The conference also included interactive one-on-one sessions, which allowed attendees to personally connect with EtQ services and support staff. Following the conference was EtQ's Reliance Passport, which covered extensive training on EtQ Reliance, EtQ's Web-based product. The conference also featured EtQ's Innovation Excellence Award presentation, which for 2010 yielded the largest pool of applicants in its history.
"We are truly delighted with the outstanding turnout at this year's event," stated Glenn McCarty, Chief Executive Officer of EtQ. "Each year attendance increases exponentially and it's a pleasure to have the opportunity to meet face-to-face with our customers, and to see many new and familiar faces. What we've found is that the User Conference is a learning experience not just for customers but for our staff as well, as we get to see the variety of ways in which they have innovatively implemented our software. We look forward to another successful event at our 15th Annual User Conference in 2011."
About EtQ
EtQ is the leading Enterprise Quality and Compliance Management software for identifying, mitigating, and preventing high-risk events through integration, automation, and collaboration. EtQ uses best-in-class, integrated modules and enterprise application integration to manage and measure quality and compliance processes and execute organizational change. Key modules within the product include Document Control, Corrective and Preventive Action (CAPA), Audits, HACCP, Complaint Handling, Risk Management, Change Management, Employee Training, Project Management, Nonconforming Materials, Enterprise Reporting, and more than 20 additional compliance-oriented modules. With its world-class flexible workflow, collaborative platform, EtQ has developed a unique niche to support enterprises involved in various compliance management initiatives such as cGxP (FDA), ISO 13485, ISO 9001:2008, ISO/TS 16949, ISO 14001, ISO 22000, AS 9001, TL 9000, OHSAS 18001, RoHS, Sarbanes-Oxley, HACCP, SQF, BRC, IFS, and similar standards for compliance and regulatory management. EtQ has been providing compliance solutions to a variety of markets for over 15 years.
For more information or to schedule a virtual demo, contact EtQ Inc., at 800-354-4476 or 516-293-0949. Visit EtQ at http://www.etq.com.
EtQ is a trademark of EtQ Management Consultants, Inc. All other product names and company names are trademarks or registered trademarks of their respective owners.
###