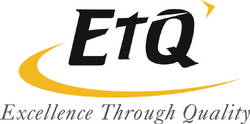 Last year's User Conference proved to be our most successful turnout to date, and EtQ looks forward to exceeding that number this year
Farmingdale, NY (Vocus) July 14, 2009
Farmingdale, NY (PRWEBY July 13, 2009 -- EtQ, Inc. is pleased to announce that its 13th Annual User Conference will be held from October 19th to 23rd at the South Seas Island Resort in Captiva Island, FL.
EtQ's User Conference is an annual event in which current and future users can learn about new advances within products, attend workshops, and participate in one-on-one sessions that provide insight into industry trends, as well as participate in valuable networking opportunities. This year's conference will include new additions to the sessions and an announcement on a new release of EtQ's Enterprise Quality, Compliance and Environmental Health and Safety Management Solutions.
"Last year's User Conference proved to be our most successful turnout to date, and EtQ looks forward to exceeding that number this year," stated Glenn McCarty, Chief Executive Officer at EtQ. "Each year it's a pleasure to hear how our customers have maximized their investment in EtQ to best meet their needs, and to provide a venue for interacting with EtQ staff and other users. EtQ's conference is designed with a customer-focused approach, ensuring that all attendees leave the conference informed and knowledgeable on EtQ's software solutions. We look forward to another outstanding conference."
About EtQ
EtQ is the leading Enterprise Quality and Compliance Management software for identifying, mitigating, and preventing high-risk events through integration, automation, and collaboration. EtQ uses best-in-class, integrated modules and enterprise application integration to manage and measure quality and compliance processes and execute organizational change. Key modules within the product include: Document Control, Corrective and Preventive Action (CAPA), Audits, Complaint Handling, Risk Management, Change Management, Employee Training, Project Management, Nonconforming Materials, Enterprise Reporting, and more than 20 additional compliance-oriented modules. With its world-class flexible workflow, collaborative platform, EtQ has developed a unique niche to support enterprises involved in various compliance management initiatives such as cGxP (FDA), ISO 13485, ISO 9001:2008, ISO/TS 16949, ISO 14001, ISO 22000, AS 9001, TL 9000, OHSAS 18001, RoHS, Sarbanes-Oxley, HACCP, SQF, and similar standards for compliance and regulatory management. EtQ has been providing compliance solutions to a variety of markets for over 15 years.
For more information or to schedule a virtual demo, contact EtQ Inc., at 800-354-4476 or 516-293-0949, or e-mail us at info(at)etq(dot)com. Visit EtQ at http://www.etq.com.
EtQ is a trademark of EtQ Management Consultants, Inc. All other product names and company names are trademarks or registered trademarks of their respective owners.
Contact:
Brenda Percy
EtQ, Inc.
800-354-4476 ext. 26
bpercy(at)etq(dot)com
###