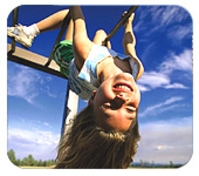 Our surveys have showed similar results - that the best time kids have is when they are outside doing things with their peer group, and not on computers playing games. The problem is often about opportunity and parents making the effort to get them there.
Northwich, Cheshire (PRWEB) January 30, 2009
Results of a survey published today reveal that children are looking for an action-packed holiday outdoors this summer - so parents should put aside any notion of putting their feet up.
The poll - commissioned by European camping holiday operator Eurocamp - questioned 1335 adults and 1179 children from all over the UK, to find out what they are looking for in this year's summer getaway.
So as many of us get paid for the first time this year - and we begin to shop for this summer's holiday in earnest - mum and dad should spare a thought for what the kids think.
According to the survey, top on the list of kids' holiday priorities is 'playing outside', followed by 'a good beach', 'good swimming pool', 'good weather' and 'lots to do and see nearby'. This is in stark contrast to mum and dad, who are looking to sit back and relax - 'escaping the everyday routine of home' whilst 'enjoying good food and drink'.
Eurocamp holidays offer a huge variety of parcs with all the attractions and facilities to make up - according to the survey - a child's (from UK) perfect holiday.
A seven night break during May half term at Eurocamp's Pointe St. Gilles parc, in
Bénodet, Western Brittany (arriving 23 May), staying in a two bedroom 'Classic' mobile home (sleeps six) with decking costs £391 accommodation only.
With super pools and sandy beaches, Bénodet is perfect for families in any season and a great base from which to explore. With a small beach just outside this spacious parc entrance and the resort of Bénodet a lovely coastal walk away it's the perfect place for a relaxing, hassle-free family holiday. Facilities include an impressive brand new pool complex - with waterslides, spa, jacuzzi and indoor pool as well as a good supermarket and a convenient takeaway.
The 1179 children - broken down in to six to nine and 10 to 13 years old categories - were asked to choose the five key aspects of a good holiday. They were given 40 possible criteria to choose from including indoor activities such as 'good food', 'quality evening entertainment', 'kids clubs', and 'having a lie in'.
To the surprise of many, both kids' groups chose outdoor themes for all five on their list (with the inclusion of the 6 to 9 year olds citing staying up late as one of theirs!).
"It seems that today's so-called cotton-wool kids look to their holiday to give them the independence and adventure they crave at home - where they are increasingly deprived of the freedom to play outside by worried parents and a lack of public leisure areas", comments Eurocamp's Chris Hilton. Latest stats show that the area children are allowed to travel around on their own has decreased by 90% over the past 30 years**.
"The sheer nature of a continental camping holiday meets a child's need for exploration - giving them the chance to make friends, join kids' clubs and the freedom to roam - whilst parents look on."
One person not surprised by the survey findings is ex-Blue Peter presenter and Chief Scout Peter Duncan, who launched the 'Kids Outdoors' scouting campaign last year. "Our surveys have showed similar results - that the best time kids have is when they are outside doing things with their peer group, and not on computers playing games. The problem is often about opportunity and parents making the effort to get them there."
Times Online Family Travel Expert and author, Emma Mahony agrees. "Opportunity is key. A new environment can rekindle children's interest in the outside world, so making the effort to plan ahead and budget for a family break is vital in our cosseted world. In France last year, my children spent hours building dens in the woods and playing in the rock pools on the beach. Those hours could have been lost in front of the television or computer back home."
And contradicting the perception of children as wrapped in cotton wool and lying on the couch, the Eurocamp survey also showed that number six on the list of priorities among the 10 to 13-year-old group was 'Experiencing a different culture'. Because the survey was broken down by region, this seemed particularly important to Scottish children, with as many as 35% of kids in Aberdeen choosing this theme over others***.
Where both parents and children are in agreement is on the importance of good weather -which made it into every age groups' top three choices. For the record number of Brits who stayed at home for the wet and rainy summer holiday of 2008, topping one million for the first time since records began****, there is little doubt that the pursuit of sun is a number one priority in having a happy family holiday this year.
With Eurocamp's choice of 160 parcs in 16 counties and islands - including new destinations in Europe and America - the UK's leading European camping holiday operator aims to fulfil everyone's needs for warm weather and outdoor fun in 2009.
For further information on Eurocamp please call 0844 406 0552 or visit http://www.eurocamp.co.uk/kidsviews
*Survey undertaken in December '08 by 72 Point. The sample was 1335 adults and 1179 children, broken down in to 6-9 and 10-13 years categories.
** Children's Play Council findings http://www.independent.co.uk/news/uk/this-britain/batteryreared-children-miss-out-on-play-547211.html
*** Regional breakdowns of the survey results are available upon request.
**** Office of National Statistics reported in the Times 18 December 2008 http://www.timesonline.co.uk/tol/travel/news/article5365074.ece
Ten Good Reasons To Take Cotton Wool Kids On Holiday In 2009 - by Times Online Family Travel Expert and author Emma Mahony
1. The parent, will get to experience life through a child's eyes. The quality of the time had on holiday is unlike anything at home when adults are pressed with responsibilities. Holidays give children the chance to enjoy time with happy and relaxed parents and grown-ups the chance to be a child again.
2. Adventure is hard to come by at home, but being abroad is the perfect excuse to wander and discover new places and interests. Nobody in the family needs to be the expert - all can share exciting new experiences.
3. Try something new. Activities such as water sports, kayaking, windsurfing or just boules may be hard to find at home, but get children to an outdoor environment abroad and suddenly the prospect becomes a challenge, not a chore.
4. Forget about work. Children don't want to watch parents tapping away on a Blackberry all holiday so make a decision to leave it at home and switch on the mobile only once a day. Being out of touch in a 24-hour world is an underrated luxury.
5. Getting closer to nature. People may live in the countryside or the town, but how often do they take some time out to look at the stars? Or watch the sunset go down? Or listen to the birds in the woods? Only outdoor holidays give the time to truly notice the natural world.
6. Surprise friends, neighbours or teachers. Learn something new while abroad - a few words of the local language, how to BBQ, local history, the names of the local flora and fauna. Fresh knowledge stimulates a persons mind.
7. Witnessing how different countries and cultures approach life - whether it is taking a four hour siesta, or meeting children from a different country, or a three hour lunch with wine, or chatting to every stranger as if they were a best friend - can inspire a family to be more flexible in the approach to life at home. Cultural beliefs that seem so rigid can melt in the face of friendly differences.
8. Meet new people. The opportunity to make new friends - particularly easy on camping holidays - is a boost to the whole family. And family always behave better with new friends of any ages around.
9. Try new food. Persuading children and teenagers to try new food is always fraught with frustration. But when put in a different culture, the resistance to frogs' legs, mussels or snails is a different ball game.
10. Create memories. Even if the parent approaches a holiday with an increased sense of responsibility, children will remember it for the fun and freedom. Kids are not kids for long, so taking a camera to remember how cute the children were before growing up.
Eurocamp Money Saving Offers
By offering flexibility that enables consumers to tailor their holidays to meet their exact needs and budget, this year Eurocamp remains an attractive holiday option in the current economic climate.

The fact Eurocamp holidays are charged per family, rather than per person, proves to be very cost-effective, particularly for larger groups
And if choosing to drive and take a ferry, it will be possible to travel for just one family price too
Low cost flights are another popular option which, when booked long enough in advance, provide a convenient, efficient, economical method of reaching a holiday destination and there are some excellent deals available at the moment
Because Eurocamp offers any-day arrivals and departures, great ticket deals can be reaped by travelling mid-week
Eurocamp holiday give the freedom to stay on parc as long as it suits the schedule and budget - from a three-day short break to three-week long getaway
Plan in advance to achieve even greater cost savings by making the most of the fully-equipped catering facilities in all Eurocamp accommodation
Removing the headache and additional costs of family meals out, self-catering - especially BBQs, picnics and relaxing al fresco - lends itself perfectly to the very nature of a camping holiday
Eurocamp prides itself on enabling customers to easily match their holiday budgets to the wide range of parcs and accommodation on offer - whether that's a fully equipped six-berth tent or a luxury mobile home
Parcs offer complimentary Kids' Clubs, great swimming pool complexes and a high standard of free activities for the whole family to enjoy
Eurocamp is offering a wide range of money-off deals at the moment so please visit the website for more details
###