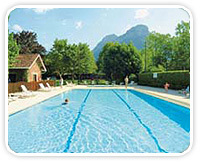 Northwich, Cheshire (PRWEB) April 28, 2009
Summertime in the Alps remains one of the best kept holiday secrets. Eurocamp - with its many parcs in the heart of the Alpine region - provides the perfect backdrop to enjoy these stunning natural surroundings to the full.
The astounding beauty of the mountains is hard to beat - with the dramatic skyline of rugged peaks and glaciers, crystal clear mountain lakes and green meadows.
Those looking for a great choice of outdoor activities will find plenty to do, while there's also the most stunning scenery and glorious sunshine to simply sit back and enjoy, if you're after a more relaxing stay.
The French Alps
Eurocamp puts couples or families right in the heart of some awesome natural surroundings, with acclaimed destinations such as Lake Annecy - France's second largest and cleanest lake - and Le Bourg-d'Oisans, situated at the base of the road to Alpe d'Huez and overlooked by Les Deux Alpes.
La Serraz parc, in Annecy Doussard, is a delightful site just a short drive from the azure waters of Lake Annecy, which offers boat trips, swimming and a whole host of water sports. And the marked paths through the neighbouring majestic mountains are loved by walkers and wildlife enthusiasts.
Set within the most magnificent location, La Serraz is conveniently within walking distance of the unspoilt traditional village of Doussard at the southern end of the Lake.
A seven night half-term break from 1 June 2009 at Eurocamp's La Serraz parc, in Annecy Doussard, costs from just £265 for the whole family, staying in a two bedroom 'Superior' mobile home (sleeps seven max), accommodation only.
Travel options include going via fly-drive to Geneva airport, just 42miles away, while Grenoble and Lyon airports are also within an easy drive. Alternatively self-drive and rail travel to Annecy Central - just 13 miles away - are also popular options.
Holidaymakers who don't fancy camping, but still want a self catering holiday in the Alps, may prefer to stay at one of Eurocamp's French apartment Holiday Villages such as Chamonix or Lake Annecy Resort.
The Swiss Alps
A Eurocamp holiday provides the perfect solution for those looking to thoroughly immerse themselves in some of the most breathtaking scenery in Switzerland.
Eurocamp's Bella Tola parc, in Susten, is ideally situated for exploring the glaciers, majestic passes and peaks of the Swiss Alps, including Zermatt and the famous Matterhorn on the border between Switzerland and Italy. It's also only a short distance from Leukerbad - the largest thermal bath and spa resort in Europe.
The parc's excellent pool offers some beautiful vistas, while the poolside restaurant and bar is just the place to enjoy the clear Alpine air.
A seven night break in July (from 5 July 2009) at Eurocamp's Bella-Tola parc, in Switzerland, costs from just £566 for the whole family, staying in a two bedroom 'Comfort' mobile home (sleeps eight max) with decking, accommodation only.
Travel there via fly-drive to Geneva, Basle, Zurich or Berne airports, which are all a similar distance away (around 120 miles). Self-drive is another option, with free mid-week Dover-Calais ferry crossing available.
###