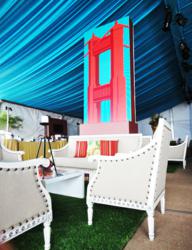 Blueprint Studios was commissioned by the National Parks Conservancy to design the décor and floral for the Patron's Tent
San Francisco, CA (PRWEB) June 05, 2012
San Francisco and enthusiasts across the nation recently celebrated the 75th anniversary of one of the most internationally recognized symbols in the U.S.--the Golden Gate Bridge. The premier San Francisco event planning company, Blueprint Studios, participated in the celebration held at Crissy Field on May 27 by lending its expertise in custom event design.
"Blueprint Studios was commissioned by the National Parks Conservancy to design the décor and floral for the Patron's Tent, which welcomed 600-plus elite sponsors, businesses and social circles of San Francisco," Mircea Manea of Blueprint Studios said.
Led by Mayor Ed Lee, guests were welcomed at the Patron's Tent, which was designed to commemorate the symbolic structure. Iconic imagery of the Golden Gate Bridge in its official color of International orange was displayed, and eight 10-foot banners that highlighted the bridge's unique features hung from the tent ceiling. The space also featured LCD bars and media panels.
"Grand floral arrangements of orange and yellow summer blossoms anchored modern white banquettes set on seagrass, and accented with custom, linen-covered chairs and pillows," Manea said. "The outdoor patio off the grand tent was set and designed to provide an optimal view of the spectacular light and fireworks show."
Blueprint Studios operates nationally and features expertise in event and floral design and decor, rental furnishings, custom fabrications and event printing services.
For more information about any of Blueprint Studios' services, call 415-922-9004 or view the event design company on the Web at http://www.blueprintstudios.com. Blueprint Studios is located at 1555 Bancroft Ave. in San Francisco.
About Blueprint Studios
Blueprint Studios is a full-service event design, event fabrication and rental firm in San Francisco that is dedicated to creating exceptional and special event environments with thoughtful details and dedicated customer service. For nearly a decade, Blueprint Studios' team of designers, production craftsmen and installation managers have established a reputation for providing cutting-edge event decor, floral designs and stylish furnishings for both timeless and modern settings.