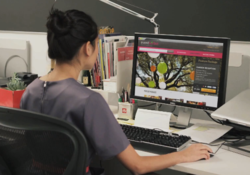 In the digital age it is astonishing that $20,000 of potential business follows a painfully inefficient sales process.

- Grace Chang, CEO of EventSorbet
Santa Monica, CA (PRWEB) March 19, 2013
Recently, co-founder and CEO of EventSorbet Grace Chang traveled to San Francisco with a $20,000 check, seeking to secure a venue for a corporate client's upcoming meeting. After 48 hours of email and phone correspondence following 20 online RFPs, less than half responded to the solicitation for business. "There are few industries that still suffer from a lack of information transparency, and in the digital age it is astonishing that $20,000 of potential business must follow a painfully inefficient sales process," according to Ms. Chang.
Despite the travel industry's rapid progress with online booking, hotels and restaurants' special event bookings still lag by comparison. Currently, each online RFP can take up to 20 minutes to complete. Even after completion the customer may have to wait days for a response, only to find that the venue is unavailable.
Unlike a leading software company who charge on average $1700 in on-boarding fees and $5-$6 per event registrant to restaurants and hotels (e.g. 500 person event translates to $3000 in fees), EventSorbet charges a low flat monthly fee per location to hotels and restaurants for an easy plug-and-play solution to streamline their online event sales process.
EventSorbet, started by three UCLA Anderson MBA students who saw an opportunity to disrupt the traditional sales model in the hospitality industry, experienced rapid growth in Southern California, onboarding more than one hundred of Los Angeles' favorite venues since launching to soft beta in October 2012. Grace has stated, "We look forward to expanding our footprint in cities nationwide. We want EventSorbet to be the preferred choice for event venues to capture more business."
From sales leads to scheduling, EventSorbet's end-to-end software is the premiere choice for event venues looking to capture more business. EventSorbet is an online platform for event service providers (restaurants, hotels, etc.) to streamline their event booking process. We eliminate the current and cumbersome RFP process by providing software to bundle event packages and market those packages online. Our consumer site provides a platform to market our subscriber's event packages and capture high quality sales leads.
###
If you'd like more information about this topic, or to schedule an interview with Grace Chang, please email our Social Media Team at socialmedia(at)eventsorbet(dot)com.