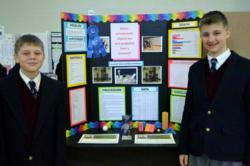 Your students are amazing. I cannot believe this is the work of 5th and 6th graders. - Science Fair Judge Mr. Ken Kranjiak, an Administrator working in the Material Science Division of Argonne National Laboratories
Lemont, IL (PRWEB) February 28, 2013
"Are there more germs at the Red Box or on the remote control?" "Which popular drink corrodes teeth the fastest?" "Is the 5-Second Rule True or False?" or "Which foods or spices create the longest cases of bad breath?" The young aspiring scientists of Everest Academy Middle School investigated these questions and other diverse topics such as microbiology, projectile motion, the speed of human senses, building a better solar panel, the bounce of a basketball, and the electrical potential of common vegetables for the recent Science Fair at Everest Academy.
"Your students are amazing. I cannot believe this is the work of 5th and 6th graders," exclaimed Science Fair Judge Mr. Ken Kranjiak, an Administrator working in the Material Science Division of Argonne National Laboratories. Kranjiak has been friends since high school with Everest Academy's Middle School Science teacher, Mr. Jon Predny and was serving as Science Fair judge for the second year in a row at Everest. "The projects become more interesting each year, in line with our school motto, "Always Higher." declared Predny, who coordinated the Science Fair and was extremely pleased with the challenging work of his students.
Our students were proud to present their hard work to the distinguished panel of judges. Most projects had begun back in November, others even earlier. The confidence, poise, and their grasp of the scientific principles behind their projects astounded the judges. One was so impressed that he asked for a tour and information for possibly sending his own son to Everest Academy. Judges included a Physician, Civil Engineer, a Chemist, a Machinist and a Retired Science Teacher.
First Place Winners in each grade level included: 5th Grade: Patrick Peters of Homer Glen; 6th Grade: Sophia Colarelli of Lockport; 7th Grade: David DeRoche and Jacob Stone of Lemont; 8th Grade: Jonathan Sutkowski of Homer Glen and James Beecher of Lemont. Second Place Winners included: 5th Grade: Cassandra Hamilton of Lemont, 6th Grade: Hannah Yep of Homer Glen; 7th Grade: Kamil Zaborski of Homer Glen; 8th Grade: Jack Zabilka of Lemont and Joseph Colarelli of Lockport. First place winners will compete at the Regional Science Fair on March 9th in Aurora, Illinois.
Everest Academy is an independent Roman Catholic school in Lemont educating children from preschool through eighth grade. Science is taught in all grades, including preschool. The teachers and staff are dedicated to forming the whole child by providing the highest level of academics, by building strong character, and by preparing generous leaders ready to serve the community. To learn more about Everest Academy's unique approach to education, please contact Coleen Mast at 630-243-1995 or visit http://www.everestadvantage.org .