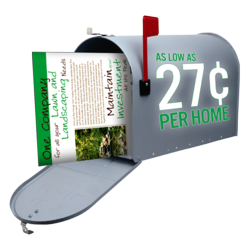 We'll do around $120K in sales from our $3K investment...
(PRWEB) June 12, 2012
Taradel LLC today unveiled lower prices and new products at EveryDoorDirectMail.com, the massively successful do-it-yourself EDDM™ website. The announcement comes as the company nears its four millionth offer mailed via the website.
"Our solutions are designed to provide affordable access to incredibly powerful do-it-yourself marketing tools," said Jim Fitzgerald, founder and president, Taradel LLC. "The success stories we receive on a daily basis, along with the viral support from the small business community, are confirmation that we're making a difference."
As of today, business owners can choose from four unique flyer and postcard sizes, with all-inclusive rates as low as $.27 per home, including postage. The latest product addition is a budget-friendly 4.25" x 11" postcard designed to maintain affordability, and stand out in the mail mix, even at smaller quantities.
Chris Kennedy, owner of Kennedy Landscape, successfully used the website to generate more than $120,000 in sales, simply by designing, printing, and mailing flyers to local households.
"As soon as the mailers hit, we started getting phone calls left and right. When it's all said and done, we'll do around $120,000 in sales from our $3,000 investment into direct mail marketing," said the delighted small business owner.
EveryDoorDirectMail.com is built on a proprietary "point and click" mapping technology that allows business advertisers to piece together a do-it-yourself direct mail campaign in ten minutes or less - online. Advertisers can select mailing areas by ZIP Code, radius, or specific postal carrier routes with just a few clicks.
Taradel's rapid expansion of Every Door Direct Mail™ solutions have garnered attention from the United States Postal Service® as well as several Fortune 500 companies. Today's announcement cements Taradel's status as an industry leader in print product development and integration with modern digital advertising technologies.
For more information visit http://eddm.taradel.com
Follow Taradel on Twitter @TaradelPrinting and at Facebook.com/TaradelLLC