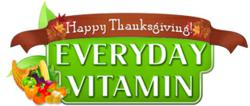 A cup of hot tea has many amazing benefits for maintaining overall health and weight
loss...
Brooklyn, NY (PRWEB) November 27, 2012
A cup of hot tea has many amazing benefits for maintaining overall health and weight loss, but not just any tea. Certain herbal teas, specifically green, oolong, and yerba mate teas contain lots of natural antioxidants which help protect the body's cells against harmful free radicals, but also contain natural chemicals that can naturally boost metabolism, increase energy and suppress appetite, thus assisting the body to burn fat more quickly.
Everyday Vitamin Nutrition LLC, a natural health company based in Brooklyn, NY and an online retailer of branded vitamins and dietary supplements, carries a variety of Chinese herbal teas including green tea, oolong tea, and black teas that can be blended together to work as a synergistic beverage to boost metabolism, suppress appetite and a great supplement to a post-Thanksgiving exercise plan.
Everyday Vitamin recommends three teas for the perfect after-Thanksgiving dinner dessert beverage:
Green Tea: Green tea's weight loss benefits have been studied and established for years. The caffeine in green tea helps to boost metabolism and burn fat when consumed after each meal, but exists in levels that will maintain a regular heart rate. The presence of L-theanine, an amino acid commonly found in tea in green tea is effective at suppressing appetite, maintaining the body's homeostasis (or body's stability and balance), and slowing fat metabolism and storage. When coupled with an exercise plan, green tea has been shown in a 2012 J Med Food human clinical trial to significantly increase resting metabolism and decrease body fat in obese women. Green tea rich in antioxidants, Epigallocatechin Gallate (EGCG) or catechin, have been shown in a 2012 clinical study to reduce body weight and fat mass after 6 weeks of consumption. http:/ /http://www.ncbi.nlm.nih.gov/pubmed/22032343. To consume catechin, three to five cups is optimal.
Oolong Tea: Oolong which comes from the leaves, buds, and stems of the Camellia sinensis plant, is a partially fermented tea that promotes a healthy metabolism and aides in the digestive process. A 2009 preliminary research study suggests that consuming oolong tea could decrease body fat content and reduce body weight through improving lipid metabolism (http://www.ncbi.nlm.nih.gov/pubmed/19271168). Digestion is a very important process in weight loss, if foods are not broken down properly, then your body has to store unwanted calories resulting in excess weight. Metabolism is the rate at which your body burns calories, and this also contributes to weight loss or gain. Two cups of oolong tea is recommended.
Yerba Mate Tea: Mate Tea is the last tea in this combination of weight loss teas; the benefit is digestion stimulation and appetite suppression. Yerba Mate is derived from the leaves of the tree, Ilex paraguariensis. Yerba mate aids in digestion by stimulating bile and gastric acid production. It also helps promote satiety and eliminate feelings of hunger. When combined with regular exercise, yerba mate tea may help boost metabolism to burn more calories. Preliminary human studies suggest that Yerba mate can significantly promote weight loss in overweight people (http://www.ncbi.nlm.nih.gov/pubmed/11424516).
Among Everyday Vitamin's popular selling tea brands include Prince of Peace Premium Pu- Erh Tea which has an excellent source of antioxidants, 3 Ballerina Dieter's Tea, Extra Strength, Alvita Chinese Green Teas, Ten Ren Oolong Tea, and Triple Leaf Detox Tea.
So for that perfect after-Thanksgiving meal dessert, replace a slice of cake or pie with a cup of soothing but stimulating herbal green, oolong, black and/or yerba mate tea to help burn the Thanksgiving pounds!
About Everyday Vitamin
Everyday Vitamin Nutrition LLC, is a natural health company based in Brooklyn, NY and online retailer that aims to promote nutrition and health through the sale of vitamins and supplement products, herbs and homeopathic remedies. These products include vitamins, minerals, dietary supplements, diet and weight loss teas that provide numerous health benefits that assist in weight loss management, exercise nutrition and improving overall health.
Everyday Vitamin carries hundreds of well-known, trusted brands such as Genesis Today, Life Extension, Nature's Way, and Now, which have been proven safe and effective by solid scientific research.
Visit Everyday Vitamin at: http://www.everydayvitamin.com for more information.