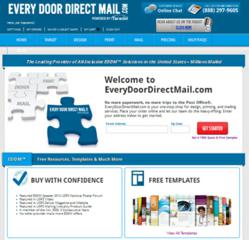 ...we've mailed millions upon millions of pieces.
Richmond, VA (PRWEB) August 03, 2012
EveryDoorDirectMail.com launched today a major website redesign, now featuring thousands of free design templates, links to popular videos, and U-Select, the most powerful carrier route mapping technology on the planet.
Since launch, EveryDoorDirectMail.com, powered by Taradel LLC, has changed the way businesses and organizations mail offers to local communities. By bundling design, printing, and mailing services, the website enables advertisers to place turnkey direct mail orders online, in minutes. As little as one week later, agency-quality postcards or flyers deliver into every mailbox the advertisers targets online.
"The response has been phenomenal, we've mailed millions upon millions of pieces," said Jim Fitzgerald, founder and CEO of Taradel LLC.
"Our goal from the onset was to create the easiest EDDM™ website on the planet, while making available support from experienced direct marketing experts."
EveryDoorDirectMail.com (Taradel LLC) has received national press from sources such as the USPS® Deliver Magazine and website, the Inc. 5000, and a USPS® video that was filmed on location by a USPS® public relations team.
The small business community has embraced the service as well, largely due to the predictable return on investment offered by direct mail advertising. Pizza operator and EveryDoorDirectMail.com customer, Tom Nuscis, created a YouTube video discussing his 47% sales increase using the service and encouraged other business owners to create their own marketing campaigns.
With all-inclusive rates (designed, printed, and mailed) as low as twenty-seven cents per mailer, the website, and its ancillary support features, provide the highest overall value by a landslide.
For more information on the Every Door Direct Mail™ program, or to create your own marketing campaign in minutes, visit http://www.everydoordirectmail.com.