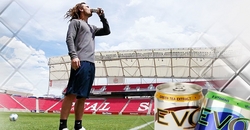 "The EVO compensation plan is quite simply the best I have ever seen. Combine this comp plan with the EVO 5:12 recruiting program, which allows everyone to get involved, then I can see EVO becoming the biggest network marketing company of all time."
Draper, UT (PRWEB) January 13, 2011
In a world full of network marketing opportunities EVO International has burst on to the scene with something so new and innovative it is sure to be duplicated. EVO 5:12 stands for "the five dollars and twelve days that can change your life" which has caught the eye of established network marketers and first timers alike. For the first time ever in this industry someone can sign up as a trial member for $5 and receive the keys to the castle. With this $5 the member gets a position in the tree, their own website and full training for twelve days while they build their organization to generate volume. There is no membership fee or up front order required to get involved.
Question: Who has the five dollars to get involved?
Answer: Everyone!
Besides this fresh look at recruiting, EVO International offers three beautifully packaged and branded product lines: EVO Energy Drinks – EVO Essentials – Olivia Mae Beauty. The EVO International technology behind its product line is cutting edge and of the highest quality. For example, Olivia Mae Age Defying product contains an industry leading six peptides with stunning anti-aging results. The entire EVO International product line is gluten free including the energy drinks. People who drink EVO love the taste and positive energy.
The EVO corporate team has been hugely successful in formulating, manufacturing and distributing products since 2004. The launch of EVO International represents a ground floor business opportunity in the MLM industry. When you combine the eye catching EVO Compensation Plan with the EVO 5:12 recruiting plan you find an opportunity that has never been seen before. Kathy Humpherys, a ten year veteran and multi seven figure earner in the MLM industry said, "The EVO compensation plan is quite simply the best I have ever seen. Combine this comp plan with the EVO 5:12 recruiting program, which allows everyone to get involved, then I can see EVO becoming the biggest network marketing company of all time". Kathy has since joined EVO International as the Master Distributor and is helping EVO become the fastest growing MLM out there. To see what EVO 5:12 is all about check out the short video at http://www.evo512.com and get more information.
The secret to success is to find out where everyone is headed and get there first. Right now, everyone is headed to EVO and the ground floor has never looked so good.
###