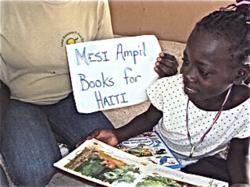 Books For Haiti has brought new technology to the third world and aims to equip kids with the skills they need to make a difference for their generation
Santa Clara, CA (PRWEB) March 12, 2013
How do these two very different agendas connect? Simple: Exafort CEO Arun Kanchi recognized that Books For Haiti was using the same advanced cloud and mobile technologies his company works with every day, and he offered to help Books For Haiti achieve their goals using Amazon's simplest Kindle eReaders.
"If you take care of a person who is in need today, you have done something good; if you teach a person a skill that can make a difference to that person's life, you have done something great", said Arun Kanchi.
Books For Haiti (BFH) was launched in 2011 by the Ende family of Los Altos. Founder Tenaya Ende, now a student at the University of Southern California, was determined to make a difference in the cycle of poverty in Haiti. She recognized that Haiti was stuck in a downward spiral, making bad choices from a short list of bad alternatives, inevitably leading to bad outcomes. The Ende family sensed that a change in the basic educational structure was the only path to Haiti's long term success. They began an effort to collect thousands of French language books and to get them into the hands of Haitian students who lacked any educational materials or resources.
From a simple start collecting and delivering hard copy French language books, BFH jumped straight to a 21st-century solution to the problems of education in Haiti. The result: a project BFH named Instant Libraries. In the Instant Library model, BFH outfits classrooms in Haitian high schools with Kindle eReaders configured in French and pre-loaded with hundreds of French eBooks available free from the Internet. Using Amazon's simplest Kindle eReader was a perfect match to the needs of a country whose infrastructure had been destroyed by repeated earthquakes and hurricanes. Since the Kindles only have to be charged up once a month, the issue of reliable electrical power is greatly reduced. Since each Kindle can store 1,400 eBooks, the need to access a Wi-Fi connection is largely overcome.
Exafort's Arun Kanchi immediately recognized the power of the Instant Library concept. "If you give a man a fish you feed him for a day; if you teach him to fish you feed him for a lifetime" was Arun's mantra as he stepped forward to become an ally of BFH. Exafort provided the Field Trial Kindles that were installed in the SOPUDEP School in Pétionville, Haiti in 2012. That Trial was a complete success, getting enthusiastic reviews from SOPUDEP Director Madame Rea Dol. On March 15, 2013 BFH is deploying the Instant Library model at SOPUDEP, and the continuing alliance with Exafort will ensure the program's success.
"Books For Haiti has brought new technology to the third world and aims to equip kids with the skills they need to make a difference for their generation," said Tenaya Ende, "we are looking forward to our first trip to Port-au-Prince and are eager to see this concept in action!"
"The Los Altos Community Foundation is pleased to support Books for Haitt, a wonderful project to address a serious need in a neighboring nation. Part of the mission of the Foundation is to help community members achieve their philanthropic goals. We are happy to help the Ende family achieve theirs," said Roy Lave, Executive Director, Los Altos Community Foundation.
For more on Books For Haiti, and to become a supporter of further deployments at high schools in Haiti, please visit http://www.booksforhaiti.com.
About Exafort, Inc.
Headquartered in Santa Clara, CA, Exafort provides professional services to help institutions harness the potential of new generation Cloud, Mobile, BI and Social Enterprise technologies. Exafort helps clients attain effectiveness, enhance efficiency, get end-to-end visibility, accelerate innovation and rapidly adapt to constantly changing business landscape. The team has deep domain, cross-functional expertise to handle the most complex deployments with utmost ease, delivering high value and services to customers ranging from privately held mid-market companies to Fortune 500 firms. For more information about the company please visit http://www.exafort.com or email info@exafort.com or call 1-888-861-2341.