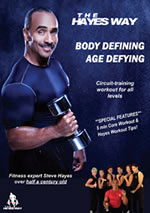 A healthy body enhances a healthy mind™.
Washington, DC (PRWEB) July 23, 2008
Amid headlines regarding alleged use or abuse of performance enhancing substances, heightening rates of obesity and diabetes, cosmetic surgery, and people all over striving to look and stay fit, professional fitness trainer Steve Hayes launches his debut exercise DVD "Body Defining, Age Defying™". Hayes, who has trained groups and individuals for more than 20 years, is the natural athlete the world is looking for. His training methods are, and have always been, completely natural, and PED (performance enhancing drug and steroid-free).
More than half-a-century old, his philosophy is "A healthy body enhances a healthy mind™." Hundreds have benefited from his expert advice. The exercise DVD, which features a circuit training workout for all levels, and special features such as a core workout and training tips, demonstrates The Hayes Way™ concepts of strength and endurance training. The exercises serve to tone the entire body; and Hayes' strict attention and adherence to proper form enhances workout results. The exercise DVD is available on-line, at TheHayesWay.com and through Amazon.com.
"Body Defining, Age Defying" viewers choose from a 10 minute tone, 20 minute strength or 5 minute core/ab workout. The routines are designed using a push-pull method, alternating the targeted upper body, lower body and core muscles to maximize results and minimize injuries. The exercise DVD also features testimonials by individuals who train The Hayes Way™ and a bonus section of exercise technique tips. In the near future, Hayes will release additional exercise videos, including an Elite version for seasoned fitness adherents.
The Hayes Way™ states that the foundation to optimum fitness is laid by developing strong tendons and a firm core (abdominals). Many sports and recreational injuries may be traced to a lack of tendon development. Viewers will follow Steve and The Hayes Way™ video team toward principles and technique that enables improved sports performance, sculpts the physique, and reverses the aging process. Such methods have enabled Hayes to naturally maintain conditioning that defies his years. "When you're fit, and your physiological systems and metabolism are in order, everything else in life seems to follow". Our states of mind, body and spirit are intertwined", says Hayes. Resistance training not only improves one's appearance and sense of well-being, it reduces women's chances of osteoporosis in their advanced years.
Besides his impeccable technique, Hayes is known for his ability to teach beneficial exercises and proper form to various types of persons regardless of age, gender, body type, or experience. He possesses a keen eye for correct form - that which ensures the best development. Steve's knowledge of anatomy and physical development, the physics of movement, the principle of maximum exertion, and routines best suited to individual size and stature inform his expertise. It is equally important that he is a personable, empathetic trainer. An avid cyclist, his cardio conditioning includes a unique style of running stadium steps and sprinting (typifying his belief in maximum exertion). Steve Hayes is the Original Athlete.
After a bout with boyhood asthma, Steve Hayes sought a way to achieve peak physical condition. He began fitness training while an undergraduate at Howard University, where he graduated in 1975. Rather than adopt techniques from bodybuilding magazines, Steve developed his own signature routines - the origins of The Hayes Way™. He has managed corporate fitness programs and his clients have included noted physicians, entrepreneurs, athletes, and television personalities. Steve looks forward to helping millions get fit and toned The Hayes Way™. Steve Hayes currently trains clients in the Washington, D.C. area, both at their homes and at the Fitness First Clubs.
The exercise video "Body Defining, Age Defying™" was produced by Immortal Productions in conjunction with Stephen Harris, an award-winning Director at A & E.
Learn more about staying healthy and fit at TheHayesWay.com.
###