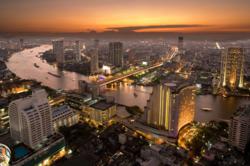 Bangkok, Thailand (PRWEB) March 20, 2013
Not for the faint hearted, Exotissimo's 'Bizarre Bangkok' tour gives an insight to the lesser publicized attractions of Thailand's colorful capital. The tour departs via boat, passing the spectacular Wat Arun on the banks of the Chao Phraya en route to the Forensic Medicine Museum, where a large section is dedicated to informing about the 2004 tsunami and the corpse of Thailand's most notorious serial killer has been preserved and put on show.
Following a relaxing traditional Thai iced coffee, guests are then taken to the Bangkok Corrections Museum, depicting former grisly prison life in the capital. In the museum wax models show old torture methods and the towers that contained prisoners still stand around the perimeter.
On the final leg of the tour guests are taken on a short journey to a fertility shrine devoted to the Goddess Tuptim, where women pray and leave gifts for answered prayers. The tour then finishes in the heart of Bangkok's shopping district, showing another side to this fascinating Asian city.
As a keepsake of the tour, every guest also receives a free copy of the book Bizarre Thailand.
About Exotissimo Travel
Exotissimo Travel is a premier destination management company that specializes in tailor made tours in Vietnam, Cambodia, Laos, Myanmar, Thailand, Indonesia, Japan and China. Established in 1993, the company is now a network of 20 locally-based offices staffing over 600 travel professionals, with sales offices in France, UK/Ireland, Germany, Spain, Australia, US and Brazil. For more information, please visit: http://www.exotissimo.com