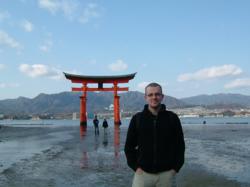 Bangkok, Thailand (PRWEB) March 12, 2013
Peter Cools, Product Manager for Exotissimo Japan, recently relocated from Tokyo to Kyoto and is joined by Katalin Racoczi, Product/Operations Supervisor. The move aims to better service the growing client base in the Kansai area and offer increased assistance to local enquiries with Exo staff on the ground in Kyoto and its surrounding areas.
Exotissimo Travel provides an extensive portfolio to cover the mountainous landscape, with tours in Japan to suit the needs of every traveler and a range of experiences from adventurous excursions to city breaks, cultural touring, family activities and luxurious indulgence. Japan is a fascinating country where new-age modern technology and ancient traditions coexist in harmony to create a compelling experience.
Please note the new office address below and contact number.
R#304 share KARASUMA
3F Dai Hachi Hase Building
680-1 Oomandokoro-cho
Bukkoji sagaru, Karasuma-dori
Shimogyo-ku, Kyoto 600-8413
About Exotissimo Travel
Exotissimo Travel is a premier destination management company that specializes in tailor made tours in Vietnam, Cambodia, Laos, Myanmar, Thailand, Indonesia, Japan and China. Established in 1993, the company is now a network of 20 locally-based offices staffing over 600 travel professionals, with sales offices in France, UK/Ireland, Germany, Spain, Australia, US and Brazil. For more information, please visit: http://www.exotissimo.com