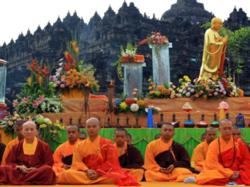 Bangkok, Thailand (PRWEB) March 29, 2013
Borobudur is famous for its impressive temple and a popular Exotissimo destination, but this religious event taking place on May 25 2013 steals the limelight as celebrations to commemorate the birth, enlightment and death of Buddha take place. The procession starts by collecting holy water on the first day, the eternal flame in Grobogan on the second and the holy water and fire are taken to Borobudur on the third day.
Then it is time for a parade and an opportunity for visitors to mingle with thousands of pilgrims as they walk 4km from Mendut to Borobudur in Bali. An excellent opportunity when visitors can witness the cultural traditions of an ancient civilization.
The highlight of the Vesak Ceremony tour is the lighting of 1,000 lanterns that are released into the sky. This symbolizes the illumination of life, health and fortune. This procession ends the whole ceremony and visitors can simply watch the festivities or purchase a lantern and join in.
Other upcoming festivals that can be enjoyed while on a tour of Bali include Galungan, a Balinese holiday celebrating the victory of dharma over adharma. The festival marks the time when ancestral spirits visit the Earth. Taking place from July 6-16, visitors can see the colorful celebrations where women dress in vibrant clothing and giant penjor sway in the wind. This is also a great time to sample a range of Balinese food prepared by restaurants specifically for the festival.
Sanur Village Festival has also become a major event in the Indonesian event calendar during September. An event inspired by marine life which plays a vital role in the daily life of Balinese people.
About Exotissimo Travel
Exotissimo Travel is a premier destination management company that specializes in tailor made tours in Vietnam, Cambodia, Laos, Myanmar, Thailand, Indonesia, Japan and China. Established in 1993, the company is now a network of 20 locally-based offices staffing over 600 travel professionals, with sales offices in France, UK/Ireland, Germany, Spain, Australia, US and Brazil. For more information, please visit: http://www.exotissimo.com