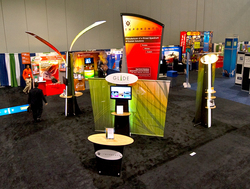 San Diego, CA (Vocus) July 19, 2010
Exponents, an Insta Worldwide Group Company, is making the East Coast debut of its new L2™ exhibit system at TS2 2010 Conference and Expo.
The event, which was held July 13-15, 2010, at the Boston Convention and Exhibition Center in Boston, MA, was an excellent opportunity for both current and future customers to view the L2 exhibit at the Exponents booth, meet its sales and marketing team, and obtain additional information on its global products and services.
Exponents' TS2 exhibit featured the L2 tower and two 10-foot L2 kiosk units. One kiosk spotlighted a two-petal canopy with a 24-inch monitor. The other displayed a flat canopy with laminated shelves. Exponents also had a GLIDE™ exhibit with a unique angled banner on display as well.
Exponents was located at Booth #101 at TS2. For more information on the L2™ exhibit system and how Exponents can help your company go global, visit the company at http://www.exponents.com or call 1.800.451.4723.
About Exponents:
Exponents is one of North America's most highly respected custom-modular exhibit designers and manufacturers. Thriving on innovation, the company has won numerous awards while helping its clients to achieve their trade show goals for over 28 years. Exponents is an Insta Worldwide Group Company. Visit Exponents at http://www.exponents.com.
About The Insta Group:
The Insta Group provides global exhibit solutions and offers an extensive range of innovative products and services to help customers achieve their objectives at exhibitions and events around the world. Based in Mumbai, India, the company currently employs 550 people and has operations in 11 countries on 4 continents. Visit the Insta Group at http://www.insta-group.com.
# # #