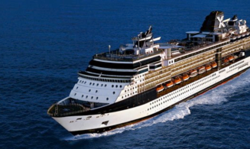 We are grateful to have the opportunity to give more people a chance to participate during this first annual Angels At Sea cruise.
Wayne, NJ (PRWEB) February 28, 2013
Express Success LLC announces Angels at Sea Cruise to Bermuda scheduled for May 26, 2013 out of Cape Liberty, New Jersey, has been able to extend its deadline for participants to register and pay to March 7, 2013. This first annual cruise will be held on Celebrity Summit, who requires the group to be finalized at this time.
"We are grateful our travel agent has been able to get us additional time to allow for people to join and benefit from our group." says Pedersen.
Participants will be supported by two gifted angelic channels and healers together with their angels and guides who will be accompanying them on this journey. The intent is for participants to relax and let go of stress, breathe, be inspired, and have fun to invite healing.
"Fun is underrated. Fun is just as important as work. Yes, we know you have to earn a living. The problem is your society values money over other things in life. It values hard work as an attribute over leisure activities. One nurtures your ego, the other nurtures your soul. When you play, you raise your vibration. When you raise your vibration, you attract more and better possibility to you," says Archangel Michael as channeled through Joy Pedersen.
The first morning on board ship will have an AngelFun program with participants meet and greet so attendees can begin making friends with fellow participants so they can begin the process of being able to network with like-minded souls during the week.
The program will provide channeled messages from the angels and healing to the group. Limited private sessions may be booked while at sea as well.
A private cocktail party and luncheon demonstration by the executive chef will be held the first and last days at sea respectively.
The cruise will also benefit the Adler Aphasia Center (aphasia is an acquired language disorder due to brain damage) in Maywood, New Jersey.
Sheryl Blumenthal is a well known healer and channel and keynote speaker throughout country. Sheryl is on the board of directors for the Global Healing Foundation and many other organizations. She is a regular presenter and staff member of the Edgar Cayce Center in NYC, and has been a presenter at alternative healing centers, yoga studios, Columbia University, the UN, retreat centers, fellowships and numerous radio and TV programs. Sheryl is the author of "Heaven's Doorway".
Dr. Joy Pedersen, Founder of Express Success LLC and 5-Day Angel Coaching Program, is a licensed spiritual healer and coach and has been global healer for over 20 years. She has been channeling angels for over 15 years, sharing many of their messages on her Angel Enlightenment blog. She channeled the book, "Wisdom of the Guardian: Treasures From Archangel Michael to Change Your Life". She serves both individuals and the business community working virtually healing an international clientele.
For more information, visit Angels At Sea, email info(at)angelsatsea(dot)com or call 973-706-8212 or 800-801-7597, ext. 101.